Destinations
·
23/01/2023
·
—
The 6 best tapas bars in Madrid
There are many thoughts that come to mind when we talk about our country, but without a doubt, tapas are at the top of the list.
If by any chance you plan to visit Madrid in the coming months, it's mandatory that you take a walk through the best tapas bars in the capital, and every day there are more options that will delight your palate.
It's not just the food, but the atmosphere, the music, the scenery and the first class service that only the locals can give you.
Stay with us and discover which are the best alternatives you have, below. Are you up for it?
Why go to a tapas bar in Madrid?
We are sure you've heard many things about the Spanish capital, and one of them is the quality of its tapas.
Tapas in Madrid is definitely one of the best experiences you can have. On many occasions, it's time to leave formalities aside and eat as tradition dictates.
The formal dinner can be very elegant, but there's nothing like a fun dish with good company to have a good time throughout the afternoon or evening.
These places offer a unique and relaxed atmosphere so you can enjoy a good concert or the last classic between Real Madrid and Barcelona.
In addition, the fact that everything is more informal makes the conversations go more smoothly. Which is perfect if you're on a first date or if you want to move up a level with someone in particular.
So, prepare your route and take out paper and pencil to visit the following bars that we've listed for you:
Best tapas bars in Madrid
1. Taberna de Angel Sierra
We start the list with the Taberna de Ángel Sierra, one of the oldest in Madrid and which still maintains its classic atmosphere.
The business was created in 1917, so it's more than 100 years old. We love the fact that it still preserves its architecture and carpentry along with tiles that highlight the classic painting of the ceiling.
All this has been thanks to the support they have received from the Madrid City Council who helped them to preserve both the antique clocks and the original bar.
Their menu is very varied and you can find everything from wines, local desserts and olives. You decide what to eat.
2. Casa Gonzalez
The next bar is Casa Gonzalez, which was founded in 1931 and still has the same old look as always.
We are struck by the fact that they have been able to adjust to new trends, so they combine the classic atmosphere with the gourmet style that is so appealing to young people nowadays.
Inside you will feel comfortable from the first moment you step inside. In addition, you will see some of its original posters from the twentieth century hanging on the wall, which is a good opportunity to take a picture for posterity.
We recommend that when you go there you order a wine next to the cheese plate, which is the house specialty. From there you can order whatever you want, take advantage of the fact that the night is young.
3. Bodega de la Ardosa
There is no doubt that old bars are the trend in the city of Madrid.
On this occasion we have the Bodega de la Ardosa, which has more than 127 years in the market. Its atmosphere is so impressive that you will feel like going back to the old times, being an unforgettable experience for anyone.
It's interesting because the classic atmosphere gives it a sense of intimacy that is very difficult to find in places of this type. There you will see from wine barrels that are served on special tables to columns that have all the years in the world that were made of wrought iron.
Regarding the menu, you can rest assured that their gastronomy is so good that they have received several national and international awards. Sit down with confidence and ask for the house specialty.
4. Antonio Sanchez's Tavern
We continue with the list and now it's the turn of the tavern of Antonio Sanchez. This is the oldest in Madrid, and if you were surprised by the date of the previous premises, you can't even imagine the year in which this business was founded.
It was in 1787 when it opened its doors for the first time, which is why we say that going to this bar is like going to a museum, you will learn about history while you eat some of its dishes.
The bar is made of old wood combined with the walls that have yellow newspaper clippings, portraits of roteros and classic posters of the time.
On the table you will be served different options, from cured ham, olives to the typical chorizo platters.
5. La Castela
There's nothing better than ending a walk through the park with some tapas at La Castela bar.
We can say that it's one of the typical bars of Madrid because it's characterized by being noisy without falling into scandal, in addition to having a human capital that will make you feel at home.
Its food is first class and quite economical, so you will find sandwiches of 5 euros.
We love the fact that it's frequented by customers from the area, which is always a good indicator when judging a bar. Among the favorite dishes are tortilla de patatas, jamón serrano, fresh seafood and rabo de toro (oxtail).
What will you order?
6. La casa del abuelo
We return to the classic atmosphere with La Casa del Abuelo. It was founded in 1906 and its trajectory has been such that it has received several awards from the Madrid City Council.
One of the keys to its success is that it has belonged to the same family for 4 generations. This way they have achieved a spectacular atmosphere that stands out for its marble and dark wood finishes.
This is how you can sit and enjoy a pleasant atmosphere where you will feel as if you were in the bar of your home.
On the other hand, they are well known for their own shrimp recipes, and they also have a line of wines to accompany any dish.
Among their dishes we find the prawns with parsley and garlic, which are the house specialties.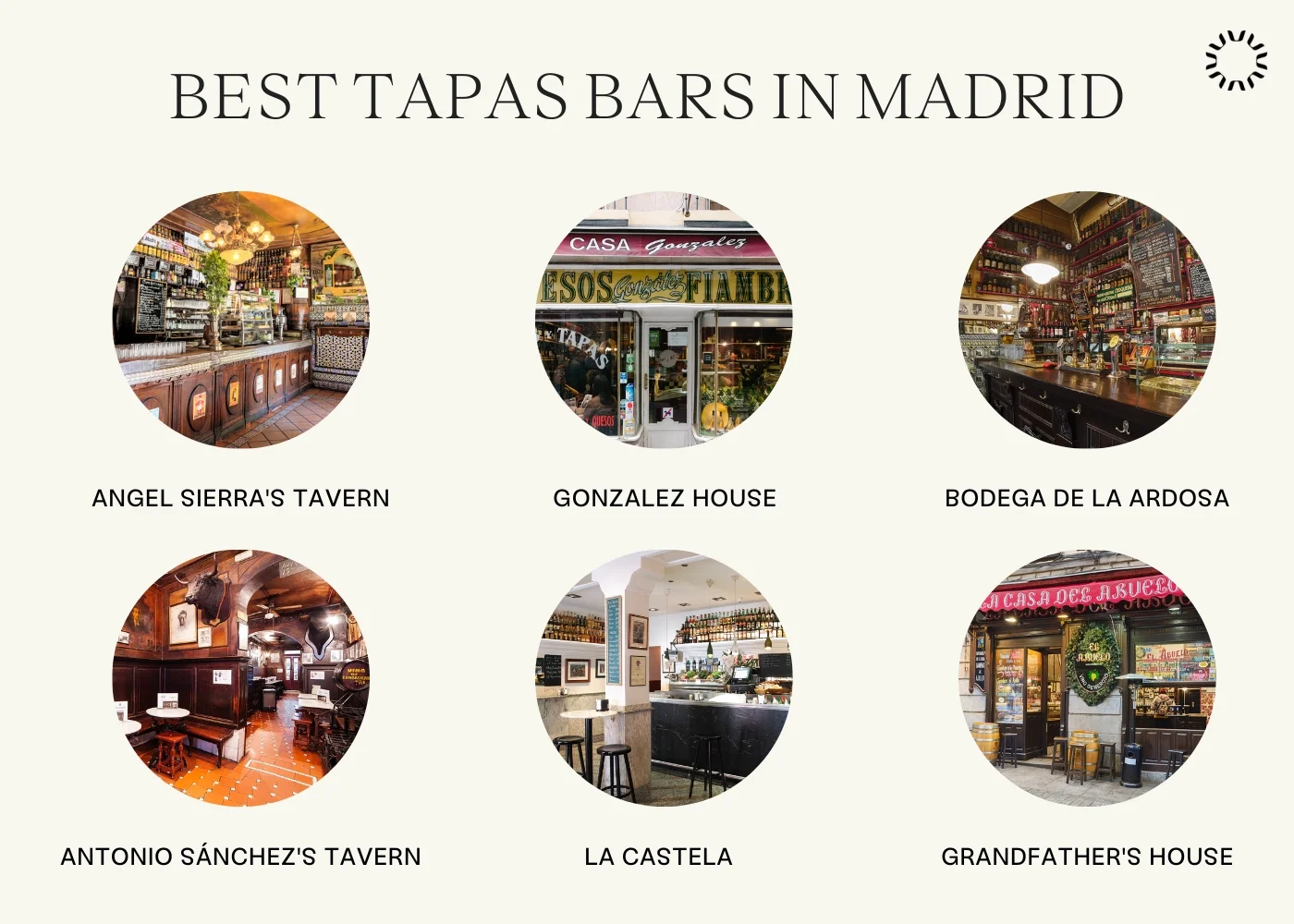 Enjoy the tapas bars in Madrid and buy a second home
Many would like their vacations to last forever, or at least to last longer, although the reality is quite the opposite.
However, with VIVLA you will have the possibility of extending your vacation periods without having to stay in a hotel, but rather in your own home.
This is possible thanks to the fractional ownership model we offer. This allows you to buy only one eighth of an exclusive house in one of the best areas of the city. This way, you will have the possibility of owning a fraction of an exclusive house at a really affordable price.
The operation is very simple: you can buy the property for a fraction of the price and you will share the expenses and maintenance fees with 7 other owners. In this sense, you will have up to 6 weeks maximum use of the property per year, which is more than enough time for you to eat in the best tapas bars in Madrid.
In addition, each co-owner has the possibility of acquiring between 1 to 4 shares of a completely renovated and ready to move in house.
Best of all, it's managed by our team, so the headaches and paperwork are taken care of by us at VIVLA.
It's time to open the doors to the opportunities that life throws at you and enjoy all that Spain has to offer!
Vacations are limited, yes, but with VIVLA you can enjoy the same destination for more than a month and a half without worrying about the daily maintenance of the property.
If you want to have more information, make an appointment now with one of our advisors.