Destinations
·
24/02/2023
·
—
Best beaches in Formentera
Do you want to escape the cold and get to much warmer lands? You definitely have to visit the best beaches in Formentera.
It's the smallest of the Balearic Islands and it's just a few minutes away from Ibiza by ferry. The truth is that few places have so much to offer, and if you are a lover of sun and warm weather, this is the place for you.
It's true that the neighbouring island has a much stronger nightlife scene, but Formentera has one of the most beautiful coastlines in Spain and now you have the opportunity of buying a villa with a sea view with VIVLA.
Would you like to know how to do it?
Why visit Formentera?
The first reason why you have to visit Formentera is because it is a natural paradise, so much so that 70% of the territory is protected by laws and non-governmental organisations.
Therefore, it will be like being in a virgin place every day, where very few people have had the privilege of bathing in its waters or enjoying the sun.
The island is so small that it's only 83 square kilometres, so there really isn't much to do, but what it has to offer is practically unmatched by any other destination.
Its crystal clear waters will captivate you from the very first moment, as will its coves that are so deserted you'll think you're the only person in the area.
There's no doubt that this is the perfect destination for beach and tranquillity lovers. Read on and discover the best beaches it has to offer:
The best beaches in Formentera
Let's take a look at some of the beaches you have to visit if you plan to go to Formentera:
1. Cala Saona
We begin our list with Cala Saona, one of the most attractive beaches on the island. It's really a kind of hybrid, because it's considered both a cove and a beach.
Although few people come to Formentera, the truth is that Cala Saona is quite crowded, so if you want to forget about solitude this is your ideal place.
We love the fact that you can walk through its palm trees along different paths and then swim in its warm waters. You can also get there by bus or car, so you have no excuse not to go.
Are you a lover of sunsets? Then you have to take a look at some of the properties we have in VIVLA, as many of them have the view you have always dreamed of.
2. Migjorn
Migjorn beach is one of the most renowned beaches in Formentera and it's located south of the island.
It's true that it's quite crowded, but because it's so large you won't have any problem finding your ideal spot.
Access by road is quite easy, just check Google Maps to see how in less than 5 minutes you will be on the coast.
3. Es Pujols
Es Pujols is an urban beach that has everything you need to spend a pleasant afternoon. It's 1 kilometre long and 20 metres wide, making it one of the smallest beaches on the coast.
We love the fact that it has a great nightlife, so all you have to do is prepare for a sunrise party by the sea.
4. Ses Platgetes
Ses Platgetes is a group of beaches all along the island of Formentera. They have crystal clear waters, white sands and rocky bottoms that allow you to swim for a long time without being disturbed by the tide.
In addition to the beach, you should also take a look at the port, which is just a few minutes away from the coast. There you will see different traditional fishing boats: the ideal combination for you to take pictures for your social networks.
5. Ses Llletes
This is not only one of the best beaches in Formentera, but perhaps in the whole of Spain according to one of the latest rankings made by specialists.
We love the fact that it is surrounded by dunes and a whole natural ecosystem that gives it a wonderful contrast. In fact, many tourists who have already visited South American countries indicate that this place has nothing to envy these destinations.
However, you have the choice of enjoying this paradise for free or for a fee. For the first alternative you only have to go by boat, bike or on foot. If you go by car or motorbike, you will have to pay a fee of around 4 euros and 2 euros in each case.
Oh, and it's also a nudist beach, so if you're a fan of this type of tourism, you've come to the right place.
6. Llevant
We continue with our list and now it's the turn of Llevant beach, an authentic paradise of crystal clear waters and white sand for you to spend the whole day enjoying the summer sun.
It's located just 3 kilometres away from Es Pujols, which means that you can take the time to do the whole route and take advantage of the opportunity to train your legs.
If you go in the summer you have to pay to enter by car or motorbike, as the seasonal visitors take up all the space too quickly. However, there are several villages around, so a vehicle is not essential to enjoy this wonder of Formentera.
7. Ses Canyes
Ses Canyes is considered one of the best beaches on the island and it's time you got to know it.
It's approximately 200 metres long, and it's large enough for you to swim wherever you like. It's also worth noting that there are two rocky outcrops where people stand to enjoy the much calmer waters.
It's true that it doesn't have any beach bars, but it does have several restaurants around the beach offering everything from Mediterranean dishes to Andalusian cuisine.
So, make your preparations, buy your second home at VIVLA and enjoy the best holiday of your life.
8. Es Arenals
We end the list with Es Arenals, a beach with shallow, turquoise waters that will captivate you from the first moment you see it.
This beach has several beach bars, as well as different shops for you to buy what you need to enjoy your stay on the coast.
There are many flats and villas in the area that are owned by VIVLA and you can buy a fraction of them to have up to six weeks of fun a year.
If you do so, you won't have to go by car, as it's so close that you'll only have to walk a few metres and you'll be in the water.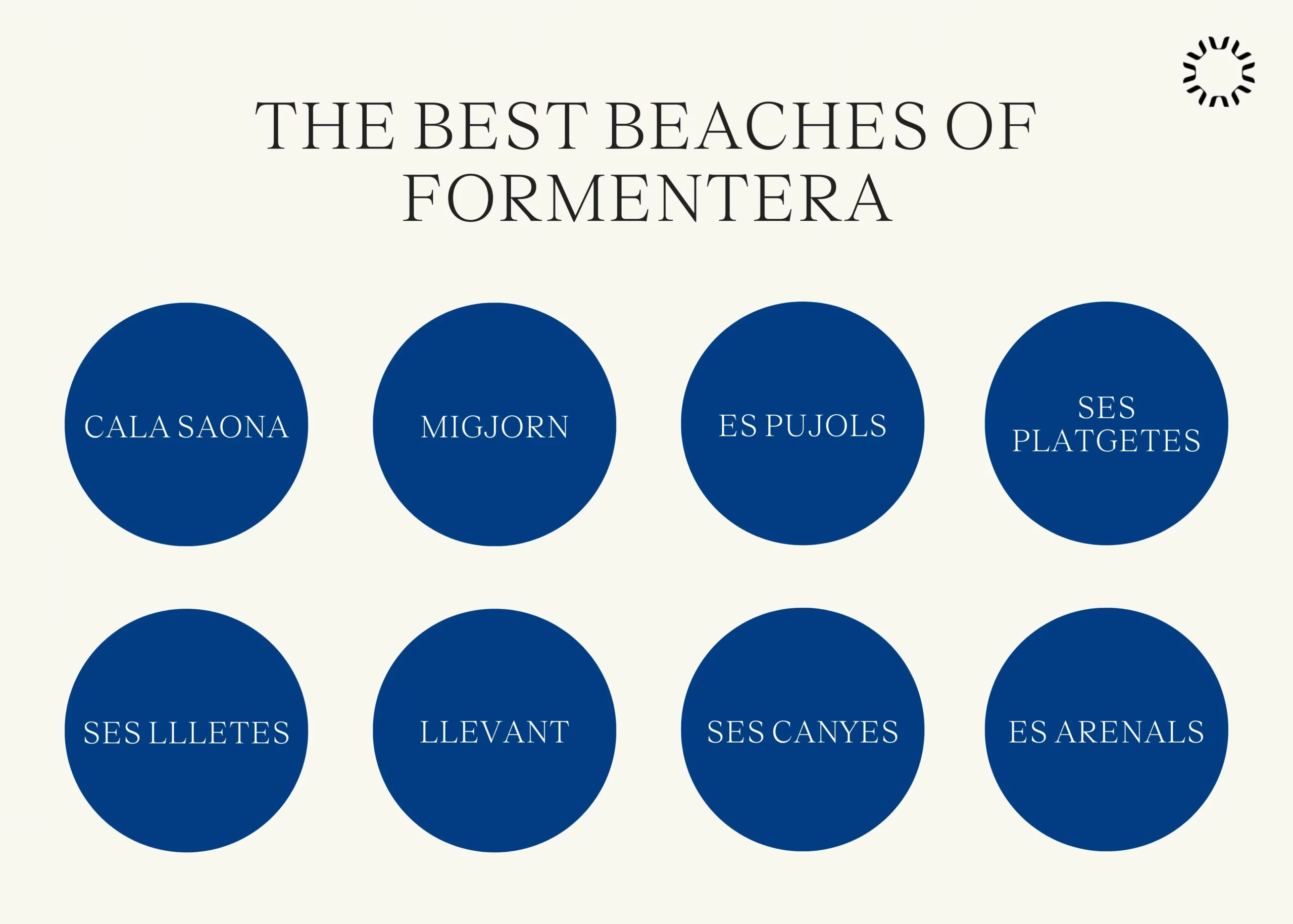 Your luxury villa in Formentera with VIVLA
Formentera is the ideal destination for those who love the beach and their privacy. Everyday life is becoming more and more challenging: we have to solve multiple problems to achieve the goals we set for ourselves.
That's why when the holidays come around we all want to escape from the city and go to an exotic place where we can forget about the world.
VIVLA knows this perfectly and that's why we offer you luxury villas within your budget. How do we do it? It's simple: we sell you one fraction or many fractions of your dream home so you can use it as you please for six weeks of the year.
It's not like timeshare plans, where you have to pay high annual fees and you only get to enjoy it for 7 days.
We know that this is not fair and that's why we wanted to go one step further. Currently we have all the services so that all you have to do is arrive and enjoy, we will take care of the rest.
It doesn't matter what it is, from filling the fridge, tidying up the garden or doing the repairs so that you don't get any surprises when you arrive.
This way, this is the ideal option to delight you with some of the most exotic destinations in Spain.
In Formentera we have the Saona Villa, a property with 200 square metres of construction, four bedrooms and a combination of wood and white that will make you think of the beach at all times.
Can you imagine living like this? It's time to make it a reality and with VIVLA you can do it in just a few minutes. Leave the paperwork aside and get ready to enjoy the life you deserve.