Destinations
·
23/02/2023
·
—
Excursions, guided tours and activities in Mallorca
How many times have you wanted to do something out of the ordinary and leave your home for a while? Maybe buying a second home is the solution and with excursions to Mallorca you will find the ideal places.
Beach lovers like you already have another place in the agenda to enjoy the sun and sand. Mallorca offers a whole coastline and turquoise coves for you to enjoy the good weather in summer.
The truth is that this island has had an important growth in recent times. More and more international tourists are coming to discover this destination, which makes the price of real estate increase significantly.
Do you understand what this means? An investment that will give you a return in a very short time and that will increase in price in the short term.
Take out paper and pencil and discover what it has in store for you:
Why visit Mallorca?
Mallorca is an island that despite its beautiful surroundings is not as well publicised as it should be. It has more than 300 beaches for you to choose from, whether you like them deserted, with crystal clear waters or with palm trees around to protect you from the sun.
Being an island, it is surrounded by the sea at all cardinal points. As such, it has several natural spaces that are protected by the local government that offer you a privileged view.
The Natural Park of Mondragon and the Sierra de Tramontana are a perfect example, where you will find different cliffs from which you can take the perfect picture.
Therefore, buying a second home in Mallorca is an excellent option for you to take advantage of the tourist and real estate trends that currently exist. It's time to enjoy the holiday you've always wanted with VIVLA. Read on to see all the secrets that this region has to offer:
Best excursions to do in Mallorca
Are you ready for the most extreme adventures over the next few days? Here are the best excursions you can do in Mallorca and for you to have the time of your life:
1. Sóller Train
We start with the famous Tren de Sóller, a must-see attraction when you arrive in town.
It's a train that departs six times from Palma station, which is just a few metres away from Plaza España.
It's a tourist attraction that will take you to some of the most interesting places on the island, from the Sierra de Tramontana, the Camino de Buñola to the Sóller side of the island.
2. Caves of Drach
We could not continue with the list without mentioning the Caves of Drach. It's located at a depth of approximately 25 metres and there are many legends that have been told in history, so once you arrive it will be like being submerged in some of these stories.
You may be surprised to learn that the locals used to say that a dragon hid in the caves and only came to the surface to catch its prey, just like in Harry Potter and the Chamber of Secrets.
Once you enter the cave you will be delighted with all the attractions it has for you, temperature around 20ºC all year round, underground rivers and details that only Mallorca has for you.
Can you imagine enjoying this excursion many times a year? Well, with VIVLA's fractional purchases you will have up to 40 days to take enough time to visit each of its attractions.
3. Cala del Moro
If you are a beach lover, Mallorca is the perfect place for you. All around there are a number of coves that will take away all the stress you're carrying around.
One of them is Cala del Moro, an almost virgin cove with white sand, crystal-clear water and bordered by two rock walls that give a rather interesting sense of intimacy.
In high season it fills up very easily due to its small size, so we recommend you arrive early to find a free space.
Afterwards you can swim and enjoy the tranquillity that only the Mediterranean can offer.
4. Bellver Castle
Lovers of antiquity will find their ideal spot at Bellver Castle, built by King Jaime II about 700 years ago.
We love the fact that it is perched on a hillside 112 metres above sea level just 3 km from Mallorca, so you can walk there to exercise your legs.
When you arrive you will be amazed at the view it offers, with views of the Llano de Mallorca and the Sierra de Tramontana. In addition, inside you will see the Gothic style that was very common at the time, together with a circular floor plan that surrounds the entire structure.
Don't wait any longer and discover each of the wonders of Mallorca with VIVLA. Buy your property in instalments and increase your wealth in the medium term.
5. Cape Formentor
Cape Formentor is one of the most impressive attractions in the whole of Mallorca, so next time you come here you have to visit this destination.
Many locals say it offers some of the best views in all of Spain, so you'll need to bring your mobile phone with plenty of charge to capture those memorable moments.
Inland there is Formentor Beach, several footpaths and coves such as La Figuera. However, the problem is getting there, as there is no paved path, so you will have to join a hiking group to reach the cape.
However, once you make it, you will see that it was worth the effort. It's one of the most important attractions in the whole region, so don't waste it.
6. Deltas Nature Reserve
If you like adrenaline, it's time to take a look at the Deltas Nature Reserve, which is done by jet ski and where you will pass by different cliffs that will leave you speechless.
Inside you will see hundreds of hidden coves, unspoilt beaches with fine sand and natural pools that you can enjoy with your friends.
7. Formentera
One of the most interesting of all the Balearic Islands is Formentera. It's the smallest, most unspoilt and isolated of the region, so once you arrive you'll feel like it's just you and nature, no one else.
The only way to get there is by ferry, there's no airport or paved roads. The boat ride can take about four hours, but when you arrive you'll realise it was worth the wait.
It's a paradise in the middle of nowhere and best of all, you can book package tours that take you to every corner of Formentera for a very affordable price.
You can see all this during 6 weeks of the year if you decide to buy a second home with VIVLA. Make your dreams come true before it's too late.
8. Torrent de Pareis
There's no doubt that Mallorca is characterised by a variety of trails that will take you on the strangest of paths. However, one of the ones you have to visit is the Torrente de Pareis, which is located right in the Sierra de Tramontana.
We are talking about a trail that's about 7 km long with a medium to high intensity and with an average duration of 6 hours depending on your physical condition.
It starts at the highest point, just 650 metres above sea level. You will descend very carefully through a forest until you reach the Torrent of Es Gorg Blau.
9. The coast of Mallorca
Last but not least, we cannot forget the catamaran trips along the coast of Mallorca.
The region has a super calm sea, so it would be absurd to end your trip without taking a trip around the Mediterranean while you enjoy the sunset.
There are more than 500 kilometres of coastline and you will be able to walk along them from Puerto de Pollensa, Puerto de Alcudia to Cata Ratjada.
Make sure you take your camera with you so you can capture all the moments you will experience.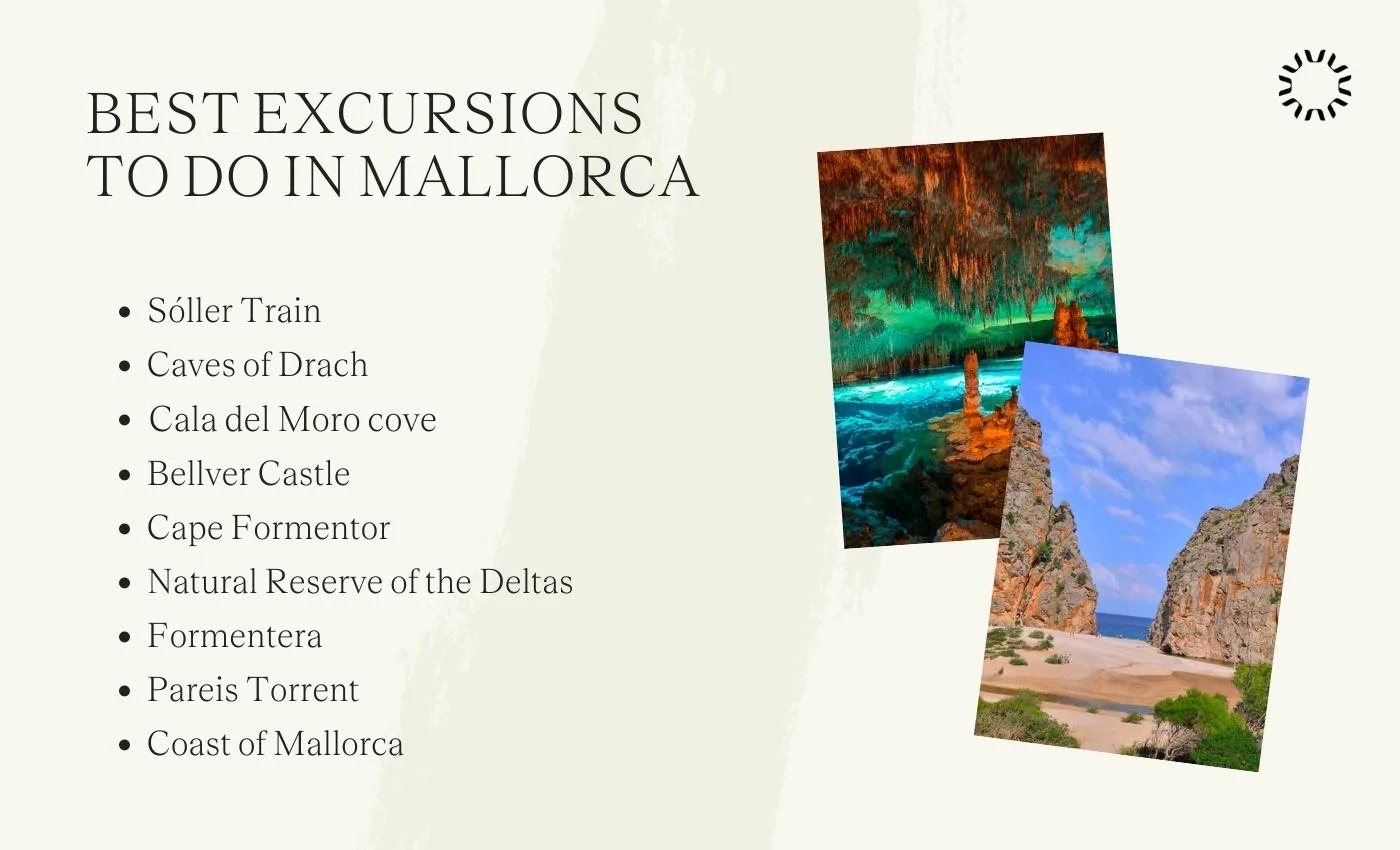 Live the holiday of your dreams in VIVLA's luxury villas.
How much do you long for an excursion in Mallorca? As you see, there are many options, so it's best to stay for several days to take advantage of everything the region has to offer.
However, the issue is the cost of the hotels, because as the days go by the costs increase significantly. However, with VIVLA you can forget about this forever.
Buy one or several fractions of the property and enjoy it for 6 weeks a year for each fraction you buy. Here we have a number of villas that will give you the sea view you have always dreamed of.
Prepare your trip, land with a trip in hand and enjoy all the services that our company offers you. Our mission is that you are well, so it's time for you to fill in your details so that the agents can contact you and give you all the information you need.
Are you ready to take the step?