Destinations
·
23/02/2023
·
—
Activities in Madrid: the best experiences
How many times have you asked yourself: which is the best destination in Spain? Well, the answer is quite obvious: there's no better city to visit than Madrid.
It's true that our country has many cities and towns that attract the attention of millions of people, but nothing compares to the Spanish capital. Here you will find a wonderful contrast between modernity, architecture and customs that characterise the whole nation.
The truth is that there are many options to choose from, from enjoying a Real Madrid match, celebrating with the Goddess of Cibeles to enjoying the best tapas in Spain.
For you to have this experience in the best way possible, VIVLA offers you a series of luxury homes so that you can purchase your second home and enjoy everything the city has to offer.
Would you like to see it?
Why visit Madrid?
There are many reasons why you should visit Madrid.
We cannot deny that it is the cultural and financial centre of the country. As much as we love inland cities like Barcelona and Bilbao, the Spanish capital attracts the most tourists nowadays.
One of the reasons for this is the high quality of its tapas. In the streets of the city you will find a series of tapas bars that will help you to spend a pleasant moment with your favourite company. Here you will discover part of the capital's gastronomy that is so much talked about in other countries.
In fact, many of these bars are over 100 years old, so every time you visit them it will be like going to a history class at university.
In addition, Madrid is one of the capitals that best combines modernity with classical architecture. Just take a stroll through the centre and you'll be delighted by some of the Renaissance-style buildings that exist today.
Thinking of staying here today? Well, the city offers many alternatives for you to stay, from small inns and hostels to authentic mansions for you to live as you deserve. However, the best thing you can do is buy a fraction of one of the houses we have in VIVLA so that you can enjoy 6 weeks of holidays a year.
Keep reading and discover all the activities you can do in Madrid today:
What can I do in Madrid?
Do you want to have the best holidays of your life? Then Madrid is the ideal destination, so let's see what you can do on a day-to-day basis:
1. Eating out in Plaza Mayor
We begin our list with the Plaza Mayor. It's a structure 129 metres long and 94 metres wide, located right next to the Royal Palace.
It's considered one of the most beautiful squares in the whole country, so it's important to bring your camera or mobile device to capture some of the sculptures in the place.
In the surrounding area you will find different tapas bars where you can have lunch or dinner after a stroll around the square.
2. Strolling along the Gran Vía
Second on our list is the Gran Vía. This is the most famous street in Madrid and one of the most important infrastructures in Spain.
The avenue starts at Calle de Alcalá and ends at Plaza de España. When you walk along it you will be delighted to see some of the world's most famous shops, museums, cinemas and fashion boutiques.
You will also find important buildings such as the Telefónica building, Metrópolis and the Hotel Las Letras.
3. The Royal Palace
How many times have you wanted to live like a king? Now you have the chance to make your dream come true if you visit the Royal Palace.
It should be noted that the royal family does not live here, but in the Palacio de la Zarzuela, although from time to time they do hold some kind of dinner or protocol event.
In this sense, if you want to visit the palace you can take advantage of the tours that are currently running. In winter the opening hours are from 10:00 to 18:00, while in summer it's from 10:00 to 20:00.
However, if you want to live like a king for longer, all you have to do is buy some of the houses we have at VIVLA. These are alternatives with which you can enjoy up to 40 days a year in some of the most exotic mansions in the country.
4. Prado Museum
Many people are lovers of the cultural movement and I'm sure you belong to this group. Well, if so, you should take a look at what the Prado Museum has in store for you, as it has some of the most important works of art in the world.
Inside you will find works by artists of the stature of El Bosco, El Greco, Velázquez and Titian. Meanwhile, among the paintings are The Garden of Earthly Delights, The Three Graces and The Naked Maja.
If you want to appreciate each work with enough time we recommend you to buy a fraction of some of the houses we have in the catalogue so that you have the necessary margin to delight yourself.
5. Goddess of Cybele
We continue with the list and now it's the turn of the Diosa de Cibeles.
How many times have you celebrated Real Madrid's titles next to the TV? Well, if you visit the capital you can enjoy the team's successes in the fountain where both players and fans gather.
This fountain is surrounded by some of the most important buildings in the city.
You will be surprised to know that it was created in 1782 to provide water to all the city's residents, although for many years it has only had a tourism function. Thus, you have to wait until the end of the season to dance and enjoy the titles that were achieved in the campaign.
6. Tapas bars
Going to Madrid and not visiting its tapas bars is like not having visited the capital, it's as simple as that. Therefore, you should make it a priority in your agenda to go to the most representative ones that are currently open.
There you can eat everything from typical Madrid gastronomy to dishes such as Serrano ham, cakes, tacos, wine and the classic Valencian paella.
7. Reina Sofía Museum
This museum was inaugurated in 1992 and is one of the newest museums in the city of Madrid.
If you are a culture lover you must visit it, as it has some of the most important Spanish art collections of the moment. There you will see works by Picasso, Salvador Dalí and Joan Miró, so it's time for you to visit it and enjoy a whole afternoon.
8. Santiago Bernabeu
Regardless of what you like, we can't deny the fact that one of the biggest attractions in Madrid is the Santiago Bernabeu, one of the most important stadiums in Europe.
In recent months it has undergone a series of renovations to bring you more comfort, so one way or another you will have to visit it.
Here you have several options, from going to a Real Madrid match or simply requesting a tour of the stadium. If you do the latter you can enter the team's museum and have your photo taken with the 14 European Cups in the display cases.
9. Puerta de Alcalá
We finish our list with the Puerta de Alcalá, a monument that was created in 1778 and since then has attracted thousands of visitors year after year.
It's located next to the Plaza de la Independencia and constantly hosts performances by artists such as Víctor Manuel and Ana Belén, so you can't miss it.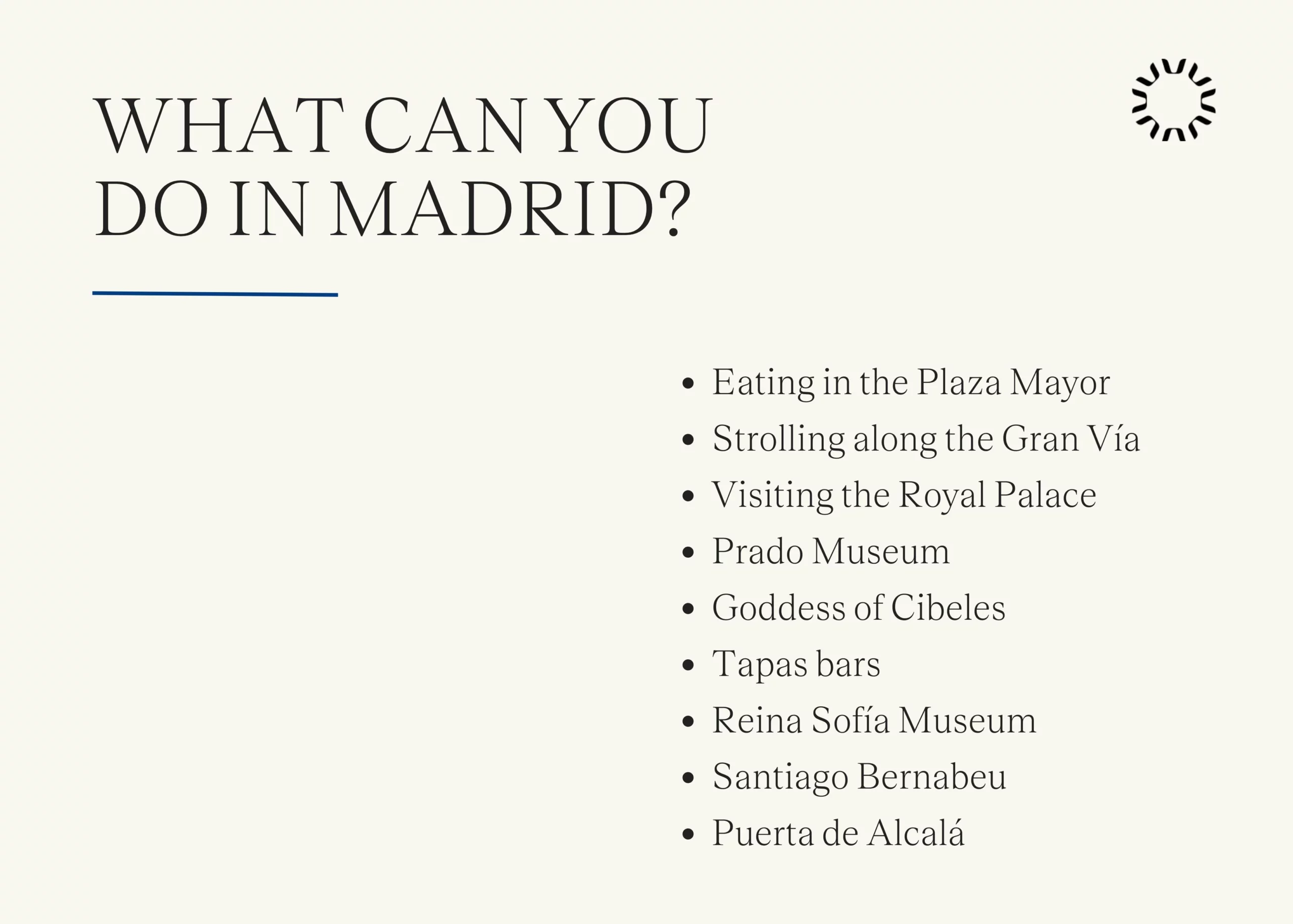 Dream holidays in Madrid with VIVLA
Do you want to fulfil your dream of living in Madrid for a while? It's time you decided to buy your second home with VIVLA.
We have selected excellent properties in the best neighbourhoods of Madrid. Our fractional ownership model allows you to own exclusive homes for 1/8 of the price.
Our model allows you to buy only a fraction of the house of your choice, which gives you the possibility to share the costs with the other owners, something that reduces your expenses significantly.
Go to our website now and fill out the form. We look forward to helping you make your dreams come true.