Destinations
·
17/02/2023
·
—
The best places for investing in Spain
How many times have you wanted to invest in your dream property in Spain? Surely many times. Well, it's time to make it a reality with VIVLA, the company in charge of bringing the second homes you long for within reach.
Spain is known for offering many economic opportunities for your savings to grow and the real estate sector is a clear example of this.
It's true that the crisis that there was a few years ago affected it a lot, but if you look at it in the long term you will realise that it is a safe and very attractive investment.
Get comfortable and discover how you can invest in the best places in Spain:
Why invest in property in Spain?
Investing in property in Spain is one of the preferred options for entrepreneurs because of all the advantages it offers.
The truth is that there are three main reasons why it remains attractive. The first is the possibility of earning passive rental income, which allows you to earn money without making any physical effort.
Secondly, we have profitability, because after the bad times during the covid period passed, the real estate sector had a very interesting rebound, and it's now an opportunity for both large and small investors.
Finally we have the security of value: by injecting your resources into a real estate project you will have the certainty that the project will be there no matter what happens because there is a legal framework that protects the investor.
If we put all these factors together, you will realise that this is one of the best business opportunities available today. Would you like to invest in one of the best cities in Spain? Sign up on VIVLA and see all the ways you can do it below:
Best places to invest in property in Spain
If we get romantic, we could say that the best city for investing in property in Spain is the one where you feel comfortable and safe. However, from a financial point of view, there are cities that offer higher returns than others.
The good news is that our country has several cities that have first class urban plans that offer many alternatives to the investor.
In this sense, let's take a look at some of the best places for investing in real estate in Spain:
It's no secret that the most important cities are at the top of the list, with Madrid being the leader of them all.
The Spanish capital is said to be the home of the real estate investor not only because of its wide range of employment, tourism and academic offerings, but also because of the public and private partnerships that offer you more and more opportunities.
In fact, in the last few months the City Council offered several plots of land where you can now build different types of buildings. You should also take into account the outskirts of the city, where there are different real estate projects for middle class families.
Take advantage of the properties selected by VIVLA in the most exclusive areas of the city.
The second destination on our list is the Pyrenees mountains, a perfect place to get away from the noise of the city and connect with nature.
Now that covid's control is over, people are no longer restricted in their movements, which means they can holiday wherever they please. This means that the demand for these places has increased in recent times.
Therefore, if you already have some capital available, you can take a look at the houses we have in this area. We have a listing of houses to suit all tastes, from eccentric villas to small flats to spend a few days in.
Why not log in to the website and check out what we have for you?
3. Costa del Sol
When was the last time you visited Andalucía? Maybe it's been a while, and if so you should book it when you can, because there are destinations like Costa del Sol that are attracting more and more tourists.
More than 125 beaches and thousands of kilometres of coastline await you with open arms. In addition, throughout the 12 months of the year it has up to 325 days of continuous sunshine, so if you want to escape the harsh winter that lashes at this time of year, this is the ideal time.
The good news is that we have properties of all types in several of the most prestigious urbanisations on the Costa del Sol, so all you have to do is arrive and enjoy the beautiful view of the Mediterranean Sea.
Are you up for it?
4. Ibiza
Last but not least is Ibiza, one of the most exotic destinations in Europe.
This island is visited by some of today's top sportsmen and women, so it's time for you to check it out too.
Ibiza has several villages, marinas and a number of nightclubs where you can party until dawn.
Log in now and find out how to make it happen: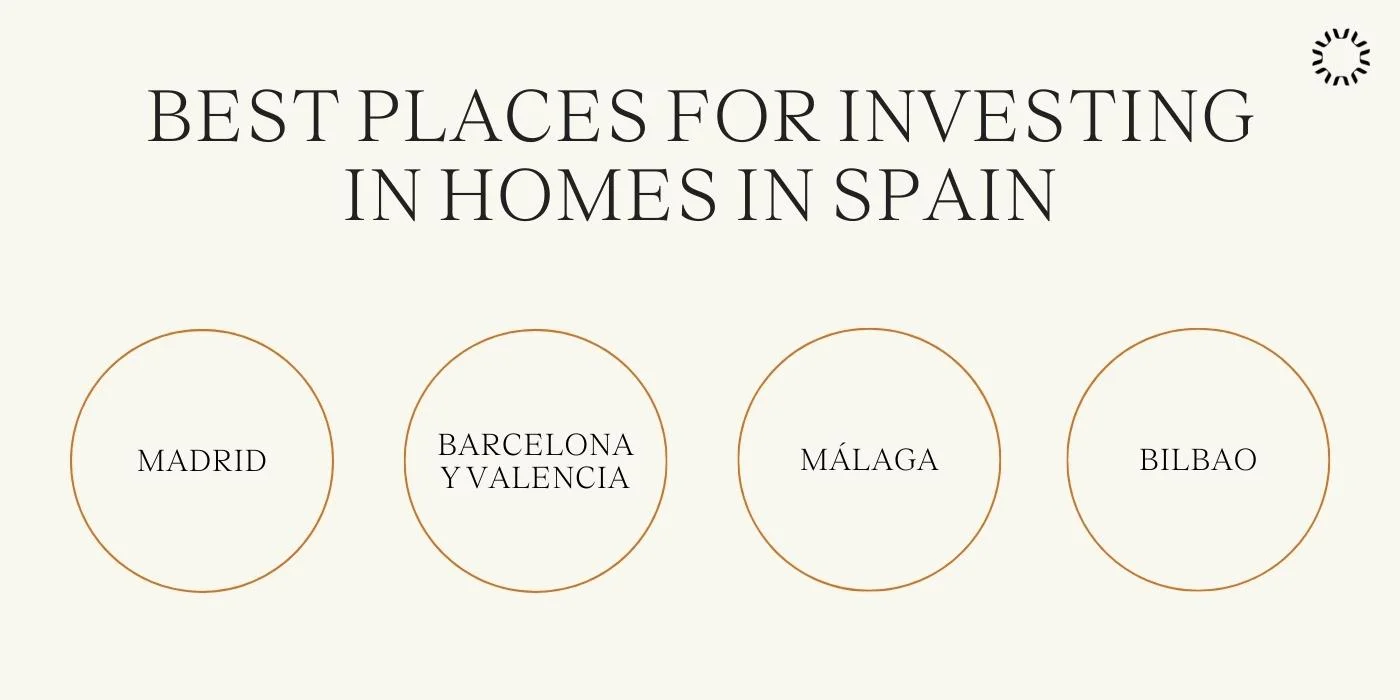 Considerations for investing in Spanish cities
Have you decided to invest in property in Spain? There's no doubt that it's an excellent decision, but to increase your chances of success we recommend that you take a look at these recommendations:
1. Profitability in the main cities
We couldn't start any other way than with the profitability offered by the main cities.
Any amateur investor will look at the options available in the regions with the highest demand, but the reality is that profitability has in most cases reached a limit in these places.
However, there are other areas that have not yet peaked and that's where you should focus your attention.
2. Forget about premium areas
Closely related to the previous point. Some experts recommend forgetting about premium areas because in the main cities they are reaching their historical price peaks, so it's very unlikely that there will be more profitability in the coming years.
In this sense, you can keep an eye on the peripheries of capital cities, as there is usually enough space there to build new projects.
3. Focus on secondary cities
Most investors, if they want to make money in the real estate market, focus on major cities such as Madrid, Barcelona and Valencia. This is not a bad thing, as the numbers speak for themselves, but it's also important to look at the bigger picture.
Believe it or not, sometimes there are more opportunities to make money in secondary cities such as Alicante, Malaga, Seville, Vigo and San Sebastian, which are close to the capitals and have everything it takes to be a real estate powerhouse.
Interested in these places? Log in to VIVLA and take a look at the properties we have in these cities, you're sure to be delighted.
4. Don't forget the coast
Last but not least we have the coastal cities that have increased their demand in recent times.
The attraction is obvious, everyone wants to wake up and watch the sea at dawn. This is a privilege that very few people have and that you as an investor can offer.
This is how the Valencian Community and Catalonia are positioned as the regions par excellence to invest in real estate projects. Therefore, prioritise them in your agenda and optimise your numbers to the maximum.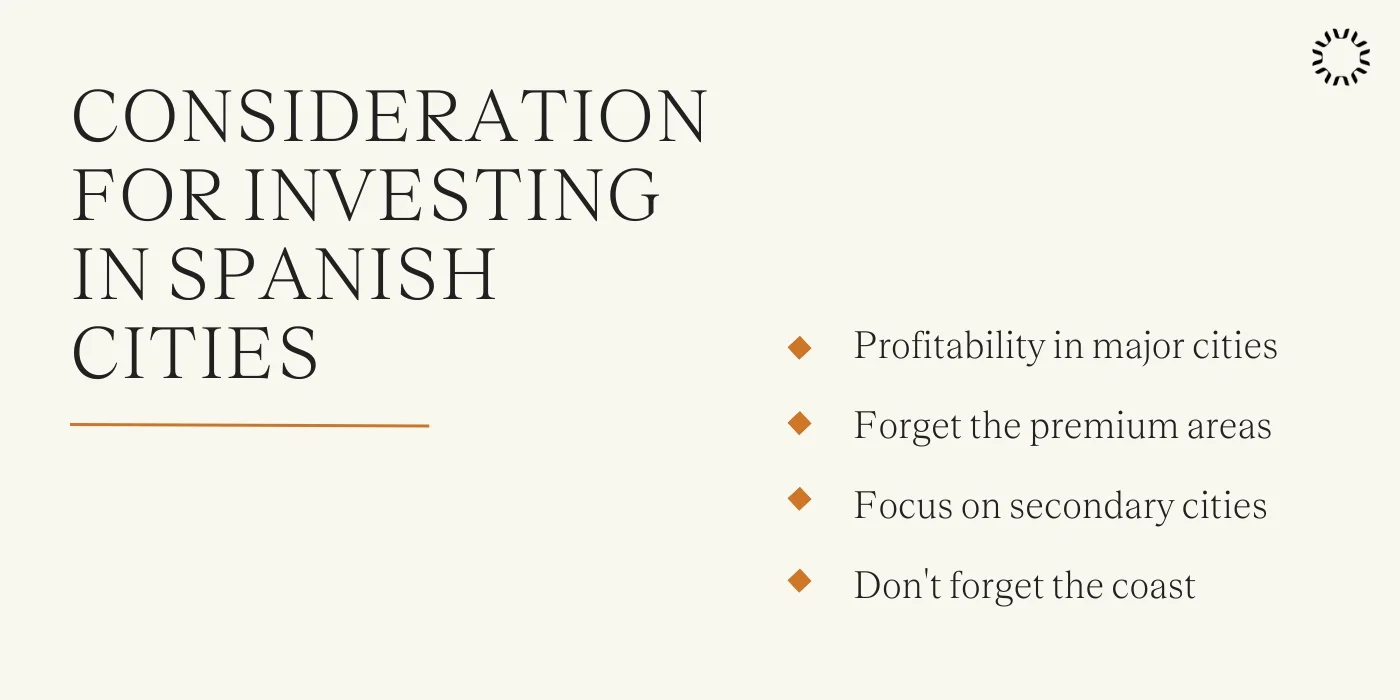 VIVLA, your ideal option for the home of your dreams
If you are looking for a high level option that will allow you to build your wealth in the long term, you've come to the right place and there's nothing better than doing this with an investment that you can enjoy.
At VIVLA we set out to offer a different option to make your money work for you, yes, that cliché phrase but you can make it come true.
How can you do it? Simple, with high quality real estate because your fraction or fractions will be revalued every year.
Besides, if you don't have the money to make the acquisition, don't worry. Here we have alternatives that finance up to 100% of the purchase with Andbank's pledged loan.
Protect your assets and maximise your profits with VIVLA. Sign up now and fill out the form and wait for one of our agents to contact you and make your dreams come true.