Destinations
·
20/01/2023
·
—
Buying a house in spain: reasons to do so and steps you need to know about
Have you ever dreamed of buying your vacation home in Spain? This dream is closer than ever and it's time you knew how to achieve it with VIVLA.
The process of buying a home can be long and stressful, but it doesn't have to be this way. We will advise you so that you can buy the ideal option in an easy and comfortable way.
Spain is a wonderful country, one of the most attractive in Europe thanks to its buoyant economy, the quality of its people and the level of employment throughout the region. Undoubtedly these are reasons enough to invest in a property in this country.
Would you like to find out how to do it?
Why buy a house in Spain?
When buying a second home, there are many elements to take into account. In this sense, Spain meets practically all the requirements since it's a beautiful nation that offers everything a tourist or resident needs.
Employment, landscapes, first class architecture, employment level and high quality sports. So let's take a look at some of the reasons why you should buy a home in Spain:
1. Geographical position
We start with the geographical position because Spain has a very privileged location.
It's one of the most important gateways to the American continent, both to North and South America, as well as North Africa, which explains why there are so many tourists coming from this area.
This makes it a very accessible territory for thousands of people. It currently has large airports in the main cities of the country, from Barcelona, Madrid, Valencia to Bilbao.
This way, mobility is very easy and it's one of the reasons why you should buy a second home in Spain.
2. Excellent infrastructure
The Spanish infrastructure is of high quality, which attracts the attention of foreigners.
First of all, it has a high-speed railway network that connects with the entire European continent, being up to 3,100 kilometres long. Thus, major cities such as Madrid and Barcelona have connections with destinations such as Costa del Sol and Costa Blanca.
In addition, each city has a fairly advanced public transportation system that includes a network of buses, subways, streetcars and highways that will take you to any part of the country.
Also, we cannot ignore the health system, which is considered one of the best in the European Union. It has high level professionals and a series of mechanisms that will take care of you in state-of-the-art facilities and free of charge.
This causes the value of real estate to increase over the years, being one of the safest investments today. So, if you want to have your dream holiday it's time to see how you can buy a second home in Spain with VIVLA.
3. Quality of life
When you think about buying a property you check many elements, and one of them is the quality of life of the city or country.
In the case of Spain, the quality of life is practically guaranteed, and in addition to the above reasons, it has a stable economy and prices that are usually much more affordable compared to other European countries.
At the same time, the climate is usually much more pleasant than in other countries such as England, Belgium or Germany, where winters tend to be longer and greyer.
This is combined with a public and private economic system that provides you with the services you need to function at your best. This way you will be able to enjoy everything Spain has to offer: beach, mountains, snow or river.
4. Robust market
The Spanish economy has always been characterised by a strong real estate market, to the point that after the pandemic there has been a 35% growth in commercial transactions compared to the previous year.
In this sense there are studies that show that prices rose by 7.4% year-on-year compared to the pandemic years, which means that buying a house in Spain is a more than interesting option for anyone who wants to increase their wealth.
So, if you want to build long-term wealth, it's time to sign up for VIVLA to see how you can buy your dream home fractionally.
5. Profitability
Some official documents show that the average profitability of real estate investment in the country is 10%, joining both the capital gain of the property and the rental rate.
The former is estimated at 6.3%, while the latter is calculated at 3.7%. Thus, if you are looking for solid income on a recurring basis it's time for you to think about buying a house in Spain.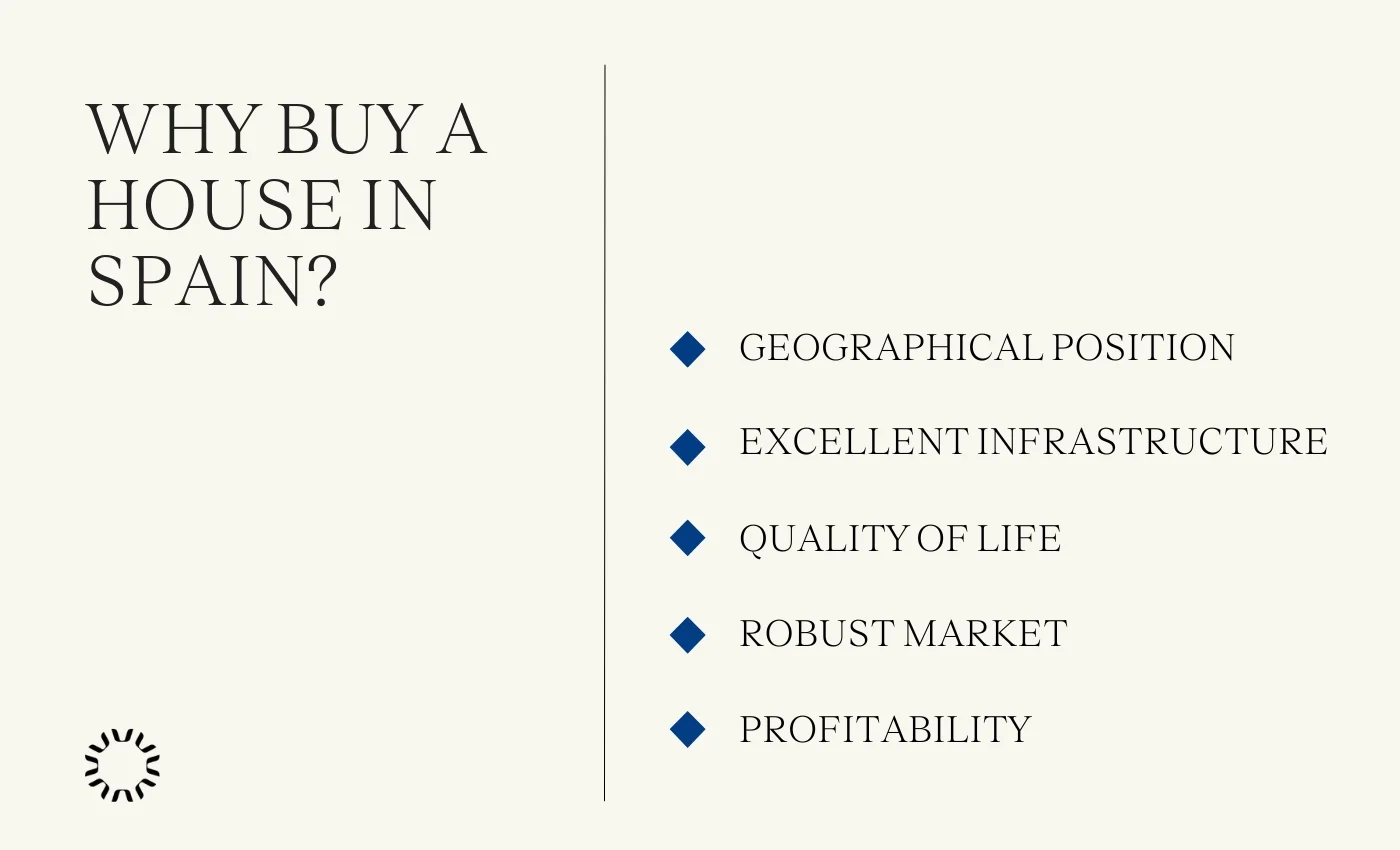 Steps to buy a house in Spain
Are you already convinced that Spain is one of the best alternatives you have to buy your second home? Let's see below the steps you should follow to buy it:
1. First define the characteristics
The first thing to do is to define the characteristics of your dream home, as each person has different tastes that must be specified to the real estate company or broker.
Here you can think about details such as:
Swimming pool
Jacuzzi
Mountain or ocean view
Length in square metres
Number of bedrooms
Then you will start searching the market according to the profile you have in mind. The good news is that VIVLA has a wide catalogue of properties so you will have no problem when it comes to choosing.
2. Available budget
Of course, you cannot think about buying a house if you don't define the budget you have available to invest. It's essential that you put it down on paper and establish a price range to start looking.
The good news is that in our company you will no longer have those headaches caused by spending hundreds of thousands of euros, because the fractional purchase model offered by VIVLA allows you to acquire the property in a more economical way and share the maintenance costs.
Enter the website and find out all about this mechanism that will help you buy the home of your dreams.
3. Research the place
Another point to take into account is the location, because it's not the same to buy in Valdebebas than in Getafe or El Barrio Salamanca because each area offers a different price range that you should evaluate.
Where do you want your mansion to be located, in the most exclusive area of the city or do you prefer something much more modest?
Tell us your decision so we can start doing the work for you:
4. Search for bargains
The time has come to walk around and look for as many offers as possible in the market.
Buying a house requires patience and time, since you must compare prices and the characteristics of the houses that exist in the market.
However, we know that this can be quite a long and tedious process, so at VIVLA we decided to do it for you.
Just as you read it, our team makes all the necessary arrangements for you to buy your house as quickly as possible. Just give us the characteristics and forget about the rest.
5. Status of the property
This is a process that we will go through together. Once you select the property it's necessary to go to it to verify that it's in the state in which it looks in the photos.
All VIVLA homes are previously verified, certified and appraised by our team of experts and Savills ensuring that they all meet the highest market standards.
6. Financing
We want to tell you that with VIVLA you can finance up to 100% of your fraction and pay only interest for the life of the loan. VIVLA has created, together with Andbank, a customized pre-approved pledge loan for the purchase of VIVLA fractions, with conditions similar to those of a mortgage.
The collateral for this loan is a portfolio of financial assets (investment funds, bonds, stocks, derivatives, deposits, etc.) equivalent to a loan of 50-75% of the value of the portfolio.
Up to 100% of financing Pledged loan Euribor + 1% 5 years renewable 10 years
The other parts will be shared with other owners and all of them will share the common expenses, while the company will be in charge of the daily maintenance so that you can enjoy it when you wish to spend your summer vacations.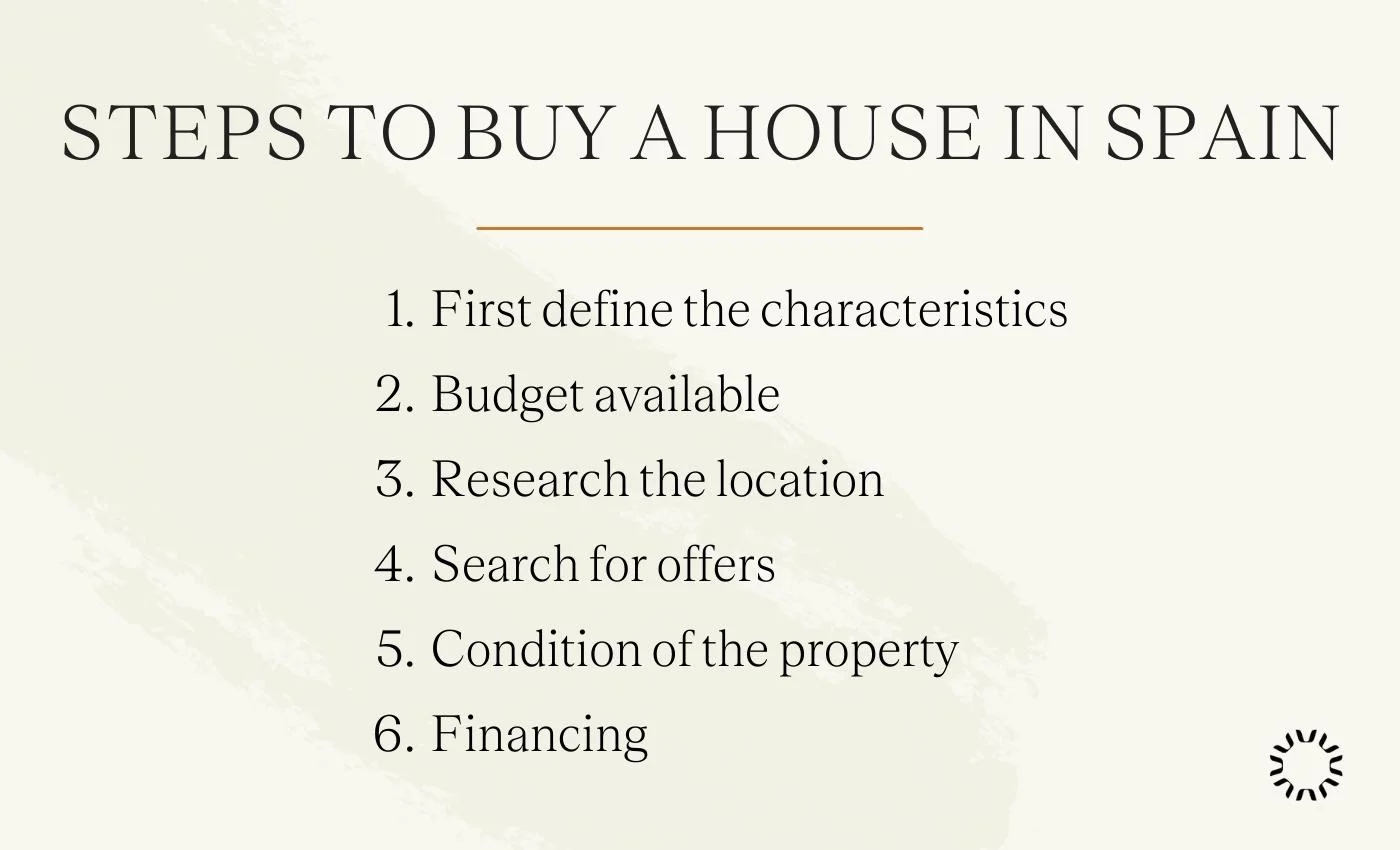 VIVLA, the ideal option to buy the house of your dreams
If you've come this far it's because you are determined to buy a house in Spain and the truth is that there's no better time to do it.
The problem is that on many occasions it can be a very slow and tiring process and that's where VIVLA comes in.
We literally do the work for you so that you only have to worry about the date when you will enjoy the facilities.
The fractional home sales model is a pioneer in the market, so you no longer have to buy a whole house to enjoy your dream vacation.
We encourage you to write to us to learn more about our services right now.