Destinations
·
25/01/2023
·
—
Best places to visit in Costa del Sol
Spain has many places to relax during the summer and one of them is Costa del Sol.
It's very likely that you've recently thought of a destination to buy a second home where you can enjoy the good weather. In VIVLA we have selected the best places to visit in Costa del Sol, a region that's becoming more and more attractive for tourists.
And it's not only its beaches, Costa del Sol has a series of monuments and natural destinations that you should know as soon as possible.
If there's a place that makes you feel like you are at home, it's best to invest money to stay there as long as possible.
Stay with us to see the best places to visit in Costa del Sol according to our VIVLA parameters.
Why you should vacation on Costa del Sol
Sun and beach lovers have many places to enjoy in Andalucia. However, few have what Costa del Sol has to offer, a paradise by the sea that is available to you 365 days a year.
There are more than 150 kilometers of coastline that are part of the province of Malaga. In fact, its name was not given by chance, as it has a radiant sun 325 days of the year, a benefit that almost no other destination can offer you in Spain.
Here you will find beaches for all tastes, from pristine waters to coasts with more movement of people for you to have fun with other tourists in the area.
If you want to get away from the crowds and have some peace you can visit the natural monuments that the region has for you. The old town, the cathedral and the main market are some of the places that will take you on a journey into history.
So, if you want to have the holiday home of your dreams, this is the ideal place and at VIVLA we will help you with all the paperwork so that you can have your second home with payments in installments.
Places to visit in Costa del Sol
Costa del Sol has many places to enjoy yourself to the fullest. Take a look at the following list and choose which one you want to visit first:
1. Marbella Old Town
We start with the old town of Marbella. Like all the regions, it has historical places that reflect the origins of the area.
In this case you will find the typical narrow streets next to whitewashed houses with terracotta roofs and balconies that allow you to see the entire coast. If you walk a little you will reach the Plaza de los Naranjos where you will breathe fresh air thanks to the surrounding trees.
Right there you will see the oldest church in Marbella, next to some cafes, bars and the town hall that is present in all the municipalities of Spain.
It's the ideal place to visit after a day full of beach and fun, do not miss it.
2. Burriana Beach
The next destination is the most famous beach in Costa del Sol. It has beige sand that is surrounded by 100% blue sea that will catch you from the first moment you see it.
We love the fact that you have many plans to do, from bathing all day, renting a sun lounger or requesting jet ski services to sail along the coast.
It's the ideal place to start your adventure in the area. We recommend you to go early in the morning to take advantage of all the fun that this paradisiacal destination has to offer.
3. Alcazaba of Malaga
It's very likely that at some point you have wanted to know how the kings lived in ancient times. Well, if you go to the Alcazaba of Malaga you will see it in first person, to the point that you will feel as if you were in a scene from Game of Thrones.
It's a Muslim-style fortress that still preserves its ruins. With an audio guide you will walk through all the vegetation, ruins and pottery that was very fashionable at that time.
You can also take the opportunity to visit the other historical sites that are around. There's no doubt that this is a stop you have to make if you visit Costa del Sol.
4. Malaga Cathedral
We return to the historic center but this time to visit the cathedral of Malaga. For many it's one of the most important monuments in Andalusia and with VIVLA you can have it right next to you for a large part of the year.
It's striking that it took up to 250 years to build and it all started back in the 16th century. The lack of funds at the time forced the architects to build only one tower, although in the original plans it was planned to build two in total.
When you enter you will notice the classical Renaissance style that characterizes most temples of the time. We love the wood carvings in the choir stalls and the altarpiece that was made more than 200 years ago.
Finally you can walk through the gardens and at the end you have a kind of museum that will show you part of the history of Andalusia.
5. Nerja Caves
If you are tired of the beach it 's time to discover one of the most impressive natural monuments of Costa del Sol, the Nerja Caves.
It's made up of different caves that are full of a natural design that will leave you speechless. The explorers point out that they are so old that paintings from the Middle Ages were once found, so you will be in contact with the pure history of mankind.
The good news is that you will be able to walk without any inconvenience thanks to the walkways that have been installed in different parts of the caves. However, it's advisable to wear good shoes because you might slip if the ground is wet.
6. Sohail Castle
If you were surprised by the age of the Nerja Caves or the Cathedral of Malaga, you won't believe how old Sohail Castle is.
It's a structure that dates back to the 10th century, just as you read it. All around it has imposing towers and majestic walls that you can visit without paying a single euro, so you have the perfect package to enjoy it to the fullest.
Now, what we love about this place is that just below is the beach that has the same name, which gives it a contrast that is hard to ignore. In addition, it's easily accessible and there is public parking. Next to the beach is the beach El Ejido.
Next to it there is a leisure area with services such as basketball courts, ping-pong tables, tennis tables, fenced areas for dogs and swings for children.
7. Picasso Museum
No doubt you have heard and studied about the life of Pablo Picasso on many occasions. Well, now in Costa del Sol you will have the chance to see a museum where several of the artist's most important works are on display.
It was opened just in 2003 and is located in the center of Malaga, specifically in the Buenavista Palace, where you will find more than 150 works of one of the most important people in the history of mankind.
It's a good way to escape from the oppressive heat of the coast. Take a break, revel in the history and recharge your batteries for the adventures ahead.
8. Benalmádena Cable Car
Lovers of heights will also find their ideal place in Costa del Sol, as the Benalmadena cable car offers one of the most spectacular views of all of Andalusia.
The ride takes about 15 minutes, where you will ascend to 769 meters above sea level to have a full view of the entire Mediterranean Sea.
At the top there are up to 3 kilometers of pure walkways so you can move around the entire hill and see as far as the African coast on lucky days.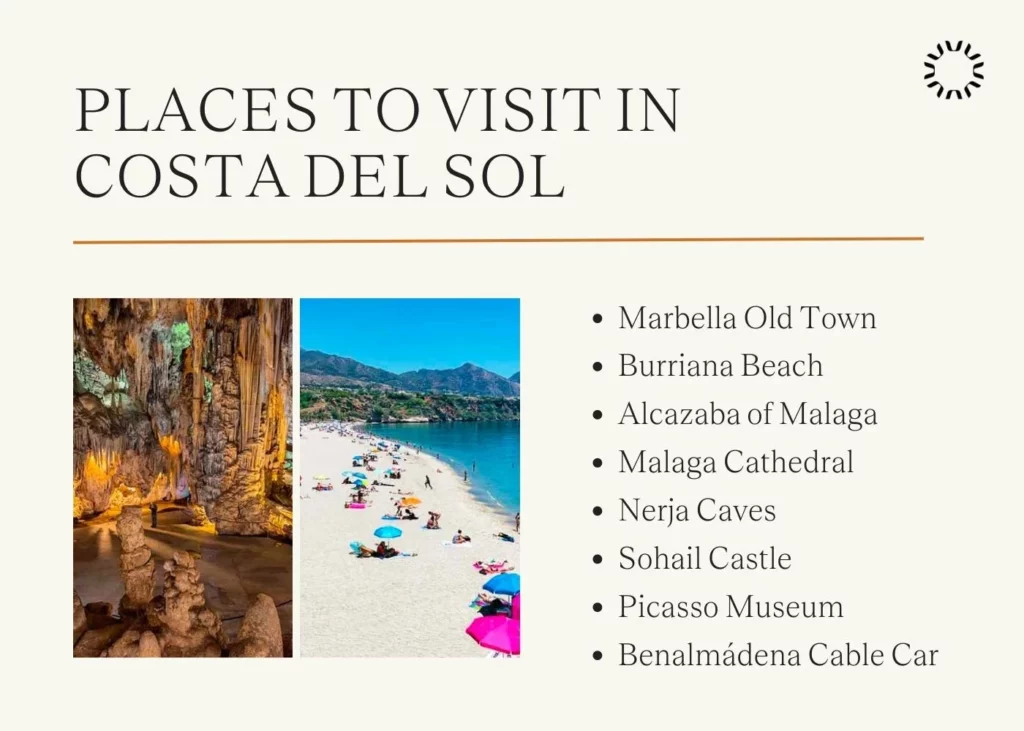 Living in Costa del Sol is possible with VIVLA
If you are looking to diversify your wealth and invest the resources of your life in a project where you can enjoy all kinds of attractions, VIVLA is the option you were looking for.
In VIVLA you will find different professionals with great experience that will help you in the whole process of buying a fractional second home.
Why stay in a hotel when you can enjoy all these aphrodisiac destinations from the comfort of your home during most of the year?
Enter our website now and discover what the best vacation of your life will be like in a VIVLA home.