Destinations
·
18/02/2023
·
—
Best concerts in Ibiza
Do you want to escape the routine? Perhaps a good option is to attend some of the concerts that take place in Ibiza, you're sure to love them.
Ibiza is one of the most attractive tourist islands in Europe. It's not only about its beautiful beaches and villages that will show you part of the history of our country, but it also has a cultural movement that attracts people of all ages.
Can you imagine buying a second home and spending your holidays in such an exotic destination? Well, with VIVLA we've put it at your disposal with our villas and fractional homes.
It's time to forget the headaches, get to the house, leave your suitcase and go and enjoy what the artists have for you. Would you like to take a look?
Why go to Ibiza?
Let's start by explaining the reasons why you should go to Ibiza.
It's the most important island of the Balearic Islands and one of the most visited in Spain. In recent times it has experienced significant growth thanks to its beautiful beaches that contrast with the historic centre of the city.
Let's take a closer look:
1. Beautiful beaches
And we couldn't begin any other way than with its beautiful beaches. Ibiza has several kilometres of coastline that lead directly to the Caribbean Sea, which makes it a perfect destination for spending the summer.
In fact, due to its location you can go at any time of the year, as winter doesn't reach the low temperatures that other areas in the country experience.
This gives you enough space to bathe in its crystal-clear waters, that will make you forget about the problems of everyday life.
2. Villages to suit all tastes
When we mention the word Ibiza, it's very likely that beach and party at dawn come to mind. However, it's important to know that the island has a series of villages that are synonymous with tranquillity and peace.
Santa Eularia des Riu, Sant Antoni de Portmay and Es Cubells are the most representative at present.
Come on, spend a day of emotions in Ibiza and then enjoy the rest you deserve in some of the luxury villas we have at VIVLA. You're sure to forget all your worries forever.
3. It attracts big name stars
How many times have you seen TV stars spending their free time or holidays in this destination? Well, the truth is that this is how many became aware of the island's existence.
Cristiano Ronaldo, Messi, Neymar, rappers like Eminem and famous DJs are constantly going to Ibiza to enjoy the parties and forget about the pressure of work for a moment.
So it's a good idea to visit the island, you never know if you might bump into some of your favourite stars.
4. Hippie culture
Many historians point out that the hippie movement in Spain began in Ibiza. So, when you visit the town you can take a look around the main streets of the town to see the shops selling items related to this culture.
Images, souvenirs, clothes and collectors' items. All of this is available in the shops, so stay in VIVLA's luxury homes and live the holiday of your dreams.
5. Natural landscapes
Yes, we can't deny that modern buildings are very eye-catching, but there's no substitute for the natural landscapes that our country has to offer.
In this sense, Ibiza has many natural alternatives that will delight you. Beaches, crystal clear waters, beautiful sunsets, waterfalls and mountains. All in one place, making it a complete destination for any tourist.
6. Great gastronomy
One of the advantages of tourism is that you can try the typical dishes of all the towns you visit.
In the case of Ibiza, we must admit that its recipes are not so well known in the interior of the country. This is something that happens a lot in the Balearic Islands, as they are more isolated than other destinations, so they develop practices that are less well known. .
However, among the main dishes we find the Bullit and guisat de peix, Borrida de ratjada and Flaó.
So, if you decide to spend your holidays in one of the luxury villas we have at VIVLA we will make sure to give you all the ingredients to delight you with the local recipes.
7. Mediterranean climate
Oh, how important is the climate when choosing a holiday destination. The good news is that Spain is such a complete country that it offers you many places with the ideal climate for you.
One example is Ibiza, which has year-round sunshine so you can swim in its crystal-clear waters no matter the month.
If you're tired of the extreme cold in the capital, it's time to get out and enjoy the benefits of the heat.
8. Discotheques for everyone
Last but not least, there are the nightclubs.
And yes, we all know that Ibiza became famous for its spectacular parties that last until dawn. Well, if they are so good you should go to a nightclub to see how good they are.
Get together with your friends and choose from the island's extensive list. It's time for you to party until dawn.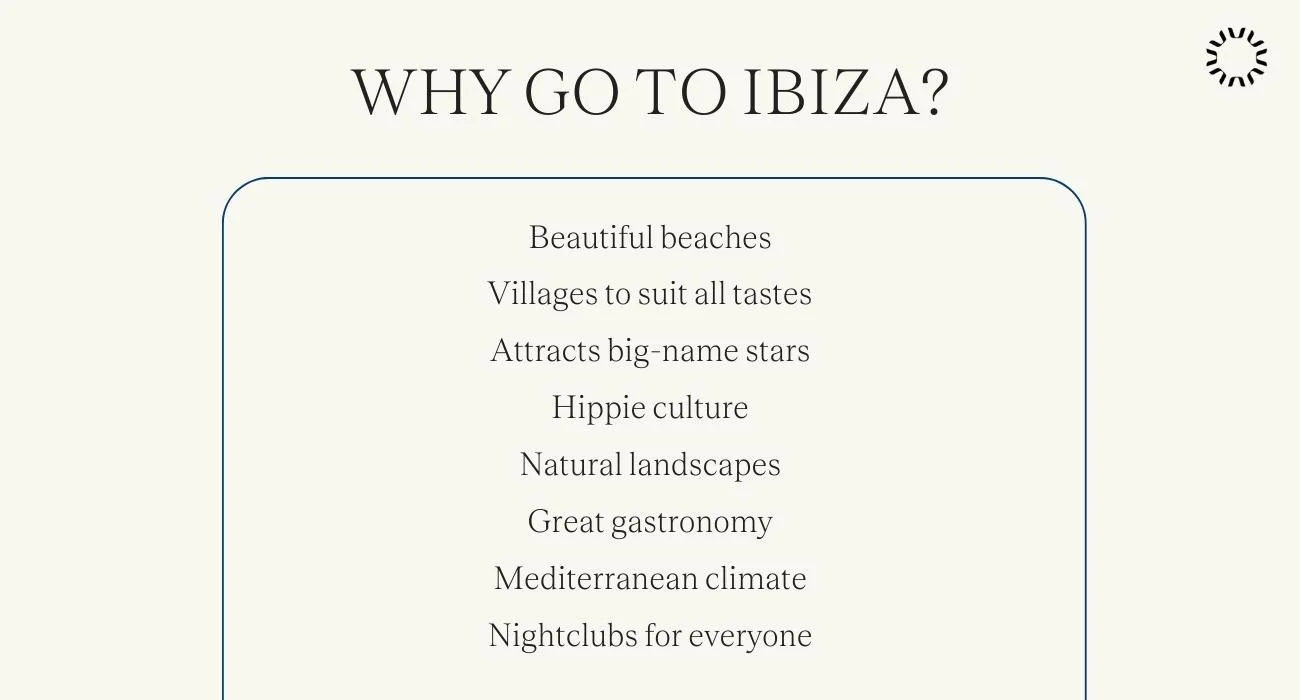 Best concerts in Ibiza in 2023
Are you a concert lover? Then you've come to the right place, because here we'll show you the biggest events to be held on the island in 2023:
1. Urban Kings
We start with Urban Kings, a concert on January 5th featuring the kings of reggaeton, Daddy Yankee, Bad Bunny and Don Omar.
Yes, the urban genre has really caught on in the country in recent times and now you have the chance to see it live.
Daddy Yankee and Don Omar are legendary artists of the genre, but Bad Bunny is the singer who is currently breaking all the records.
Book your ticket and enjoy his music.
2. Concert dels Reis
This is a very traditional concert that takes place every year in Ibiza and is organised by the local authorities themselves.
It will be held on Friday the 6th of January at 18:00 and on this occasion it will be the turn of La Banda Musical de Alcúdia to liven up the event. Buy your ticket and find out more about this musical group.
3. Jam Session with Vicente Borrás
Jazz music lovers already have the ideal event for them. This is Vicente Borrás, a classical music singer who will be performing in Ibiza during the first days of January, showing the results of his latest work.
It will be one of the first performances of the year and it seems that the artist will show new pieces that he has not yet released. So, buy your ticket and get ready to sing until dawn.
4. Jaime Anglada
On the first Thursday of the year, Ibiza will dress up to welcome Jaime Anglada, a singer who has more than 20 years of musical experience and who will show all his talent on stage.
The organisers say that they have new songs in his repertoire and that he will show them in the following presentation. Do you want to listen to him?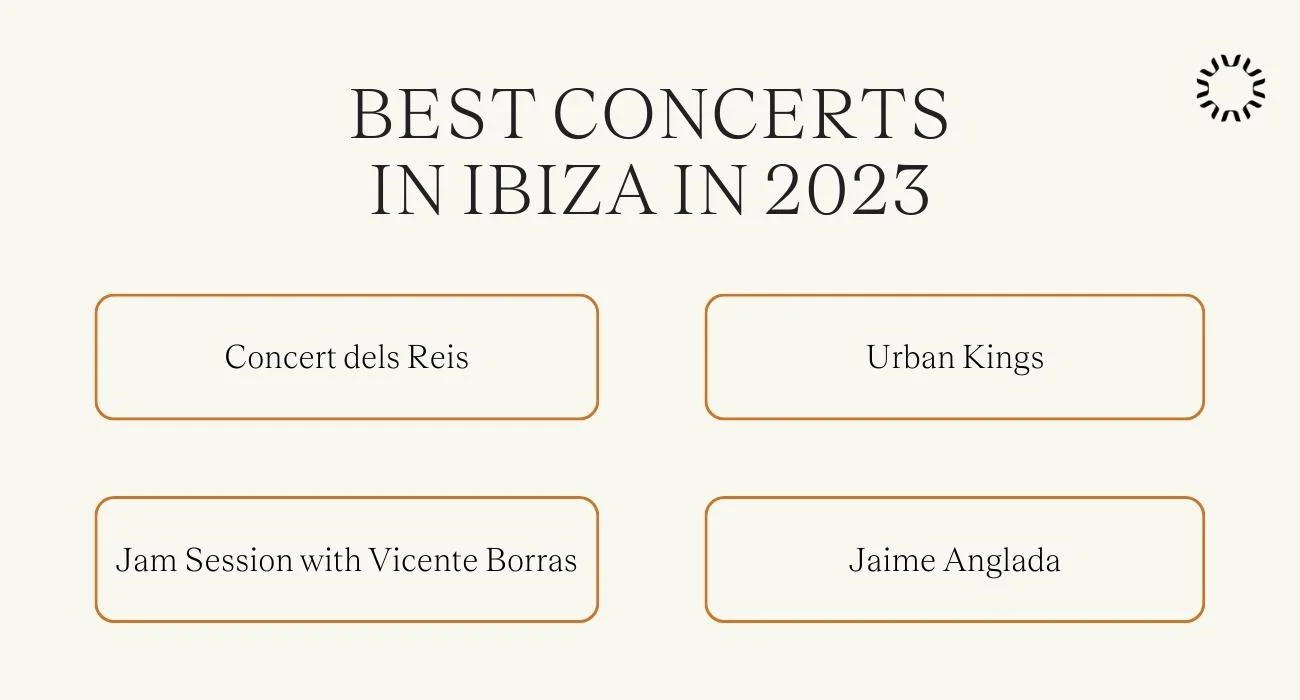 Your dream holidays in Ibiza with VIVLA
Have you been thinking about a new destination for your summer holidays? Well, it's time to stop looking, because Ibiza is the place you've been longing for.
Beaches, mountains, narrow streets and endless stories to discover. The island offers you all this and now you can discover it in detail thanks to VIVLA.
Buying a second home has never been so easy, and we've put everything at your disposal so that you only have to add the money and forget about the rest.
Once you do, you can buy from ⅛ of a fraction of the property up to ½ of the property, allowing you to share the costs with the other owners.
You will then have up to six weeks a year of holiday in the home of your choice. Oh, and you won't have to worry about filling the fridge or anything like that, because at VIVLA we will provide you with all the services you need to arrive and enjoy this paradise called Ibiza.