Destinations
·
18/01/2023
·
—
Beaches in Costa del Sol you'll want to visit
Beach, sun, sand and good company. Is there anything better than this combination? The answer is yes: a permanent home for the whole year. With VIVLA you will know how to achieve this dream.
This destination is considered one of the most attractive ones in Spain and you as a resident cannot miss it.
It's a coast full of many beaches and countless villages that have their arms wide open for you to discover their traditions and stories, which will take you back hundreds of years.
We are sure that once you visit there, you will want to stay forever and it's there that you will be able to take advantage of some of our services.
Lasting vacations in Costa del Sol
Millions of tourists visit Costa del Sol every year, so you can't be left behind. Its beaches are recognized nationally and internationally as they offer you golden sands next to a crystal clear sea that will smile at you no matter what time of the year.
Many people suffer with the arrival of autumn and winter. Yes, it's true that these are beautiful months, but the cold can be unbearable for some people, especially if they live in cold areas like Bilbao or San Sebastian.
It's there where the name Costa del Sol resonates, because there is sunshine 365 days a year: a treasure that not everyone has the privilege of living in.
You will be surprised to know that in this region there are up to 125 beaches distributed in a coastline that covers up to 161 kilometers. This means that you will have enough space to swim, walk or practice the extreme sport of your choice.
Do you feel like reading on?
Best beaches in Costa del Sol
Let's see in the following list which the most beautiful beaches in Costa del Sol are. Take note and start visiting them:
1. Maro Beach
We return to Nerja, this time to enjoy one of the most important jewels of Andalusia, the beach of Maro.
It has a super quiet environment with crystal clear waters and a very particular fauna. This demonstrates why it was selected as the best beach of this Autonomous Community in 2013.
It's important to take into account that it is smaller than the others we have shown you today. It's approximately 500 meters long and 20 meters wide. In addition, it has the necessary infrastructure for people with disabilities to access this wonder of nature.
As if that were not enough, it's perfect for sea kayaking, where the route between Burriana and Maro stands out. Make the choice once and for all and find your accommodation to have fun with the attractions that Playa de Maro offers you.
2. Torrebermeja Beach
Torrebermeja beach is one of the most important beaches in Andalusia. It's characterized by having a great commitment to the environment, which is why there's always a blue flag waving on its coast.
This shows that their services are of high quality, so you have nothing to worry about.
It has beautiful beaches surrounded by gardens so you can spend the whole afternoon bathing and hiding from the sun when you consider it necessary.
Its coastline is 700 meters long and 50 meters wide, so you will have enough space to enjoy and play sports.
3. Burriana Beach
The second place on our list is Burriana beach.
It's located in Nerja and it's one of the most popular beaches nowadays thanks to its fine sand surrounded by beach bars for you to cool off all afternoon.
Unlike the previous one, this beach has a size of 800 meters long by 40 meters wide and is located just south of Calle Filipinas. In this regard, we love the fact that there are many stores along the shore, as well as public restrooms and showers that will help you feel right at home.
If you are a water sports lover, this is the place for you, with everything from jet skis to kayaks for rent to play with your friends.
Imagine now spending your vacation in a Villa overlooking the beach of Burriana. You can achieve this with VIVLA. Enter the website and find out how you can benefit from this.
4. Cabopino Beach
We continue our tour and now it's the turn of Cabopino beach.
It's ideal for you if you are looking for a wider range of space for walking, jogging or strolling with your friends. It has a length of 1,500 meters long by 500 meters wide.
Like other coasts, it offers rental services of awnings, chairs, jet skis, surfboards and much more.
The best of all is that there are many alternatives to get there, because if you travel by bus you will find stops very close, while if you go by car there are plenty of areas to park.
Its collection of bars and restaurants is wonderful, so there's nothing better than vacationing in a luxury home to wake up and have breakfast with the typical dishes of the area.
5. Carihuela Beach
Torremolinos has many beaches, but undoubtedly the biggest of them all is Carihuela. We love the fact that its waters are super calm and shallow, ideal for swimming with the family.
With more than 2,100 meters long and 40 meters wide, this beach attracts a lot of couples because it offers enough space to live unforgettable moments.
Its access from the center of town is very simple, you only have to walk a few meters and you will be in the water.
6. La Malagueta
It's very difficult to pass by this beach and not detect that you are in it because it has a giant sign that tells you that you are entering the Malagueta.
Everyone who visits Malaga has to go to this coast. It's located just a few meters away from the city center, which makes it one of the best located beaches of Costa del Sol.
Yes, as in other areas, there are many services for rent, but it is worth noting that there are several palm trees in the surrounding area that offer free shade.
The fish from the beach bars is one of the typical dishes of the area and you cannot ignore it if you visit this destination.
7. La Rada Beach
This is the most important beach of Estepona, since it is more than 2,600 meters long: enough space for you to enjoy it fully.
It's a good option to rest after a day of strolling through the historic center of town. We also love the fact that it has the blue flag, which demonstrates the good practices implemented by the authorities.
Would you like to have a dream vacation in this town? With VIVLA you can make your deepest wishes come true. Purchase some of the fractional plans and enjoy everything the beaches of Costa del Sol have for you.
8. Torreblanca Beach
Between the border between Benalmádena and Fuengirola is Torreblanca Beach, which always has a space available for you to visit even though it is highly sought after during the summer season.
If you have an exquisite palate, this is the perfect destination for you. Around the coast you will find several first class restaurants that specialize in national and international cuisine.
Imagine waking up with a view of the sea, having a cup of coffee and walking to the restaurant of your choice to have breakfast as you deserve.
You can get all this thanks to the catalog of properties that VIVLA currently has. Don't think twice and take a look at them.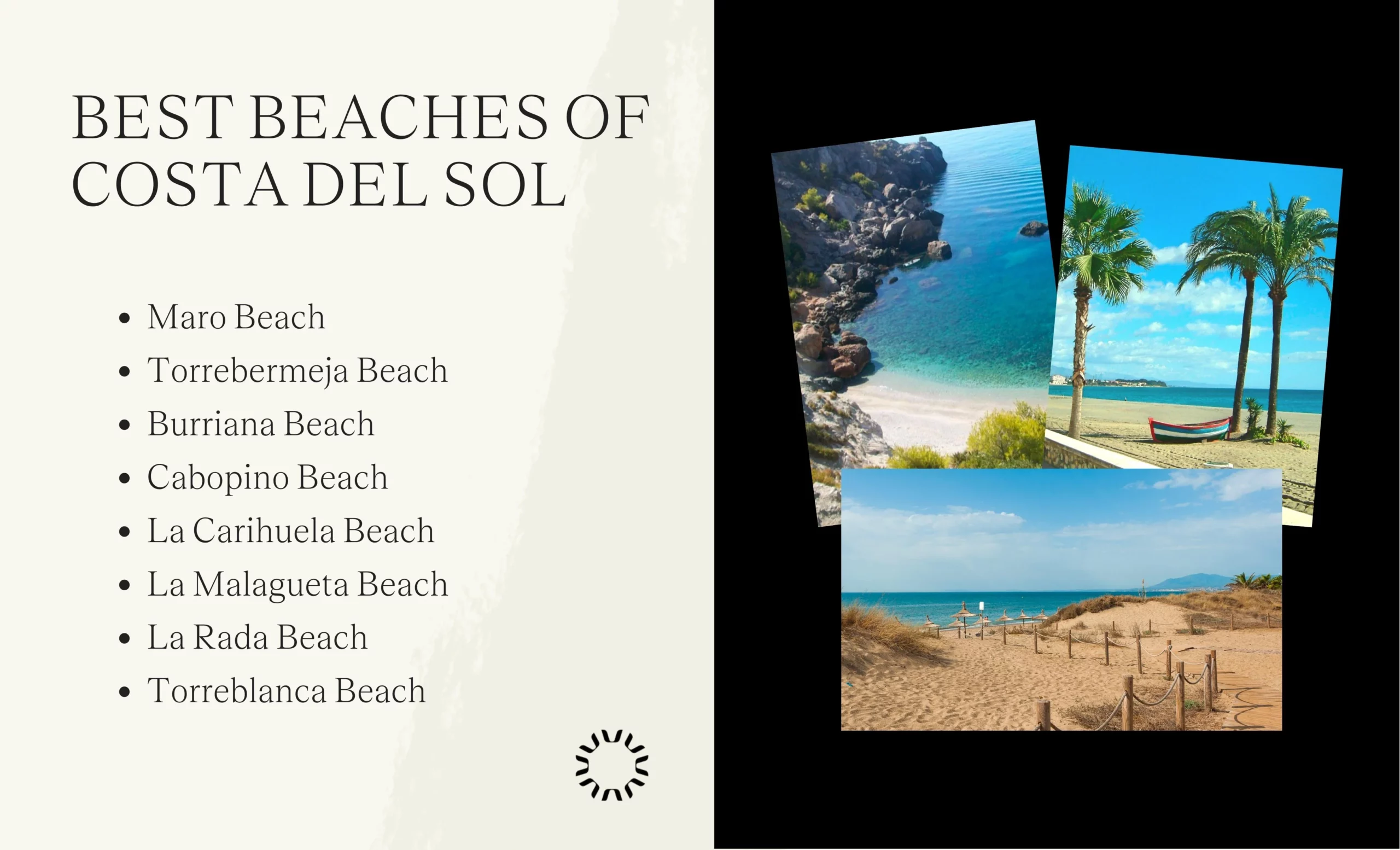 Your dream house on the beach with VIVLA
It's very likely that at some point you have dreamed of a vacation home with an ocean view and all the services you need to rest to the fullest.
Well, with VIVILA you can make it happen because you don't need a fortune to get it, in fact it is much cheaper than you think.
We help you buy your second home in Spain through a simple and affordable process for everyone. In our catalog you will find villas with first class finishes that will remind you of the dreams you had as a child.
At VIVLA we personally check the properties of your suppliers to verify that everything looks as it does in the pictures.
Feel free to fill out the form and wait for one of our agents to contact you, we are waiting for you!