What is the reserve or repair fund?
Have you ever worried about what might happen if something were to go wrong with your property? That's what the reserve fund is for, and that's what we'll talk about next.
In most communities there is a budget to deal with repairs and maintenance that may need to be done at some point.
But in the fractional purchase models of properties like the ones we manage in Vivla, you will no longer have these headaches, since the expenses are shared by all the co-owners.
Want to take a look?
What is the reserve fund?
The reserve fund is a specific budget that keeps a certain amount of money in reserve for a specific occurrence in the property, be it a house, mansion or building.
However, in most cases it is applied in structures where several co-owners live, since there the common expenses are shared for the correct maintenance of the property.
Therefore, the idea is to define a fixed amount that must be deposited periodically so that when there is an unforeseen event, the resources are taken from the fund in question.
In this sense, the fund is nourished both by the contributions of the co-owners and the interest and fines that may be applied to users for late payments or errors in their behaviour.
Characteristics of reserve funds
The reserve fund or property repair fund has many features that you should evaluate before buying a timeshare or timeshare housing.
Take a look below:
1. Long-term funds for all kinds of contingencies
Yes, reserve funds are long-term budgets that are used exclusively for contingencies, those problems that cannot be ignored because they affect the quality of life of the other inhabitants.
This groups together inconveniences such as burst pipes, floor replacement, roof maintenance and any element of the building's structure.
The idea is that coexistence is not affected and for that there must be clear communication at all times.
2. Each co-owner makes a monthly contribution
In most of the horizontal properties a series of regulations are created that regulate the behaviour of all the co-owners.
Here it's specified what the nature of the reserve fund is, how much money they will contribute and how often.
Nowadays we can find condominiums that charge every month, while others ask for the funds every two or three months. It all depends on the needs of each space, but the idea is to anticipate problems.
3. Budget approved by each co-owner
The company that owns the property has the duty to inform each user of the costs they will assume once they sign the contract.
It's essential that all items to be covered by this fund are specified, otherwise there will be gaps in the information and that's where problems arise.
4. Annual budget changes according to the housing needs
This is very important, as sometimes a budget is approved, but as the months go by it becomes necessary to inject more capital to solve a specific need.
Property repair costs are usually quite expensive, so you have to keep an open mind and not be so strict, as these situations can get out of hand.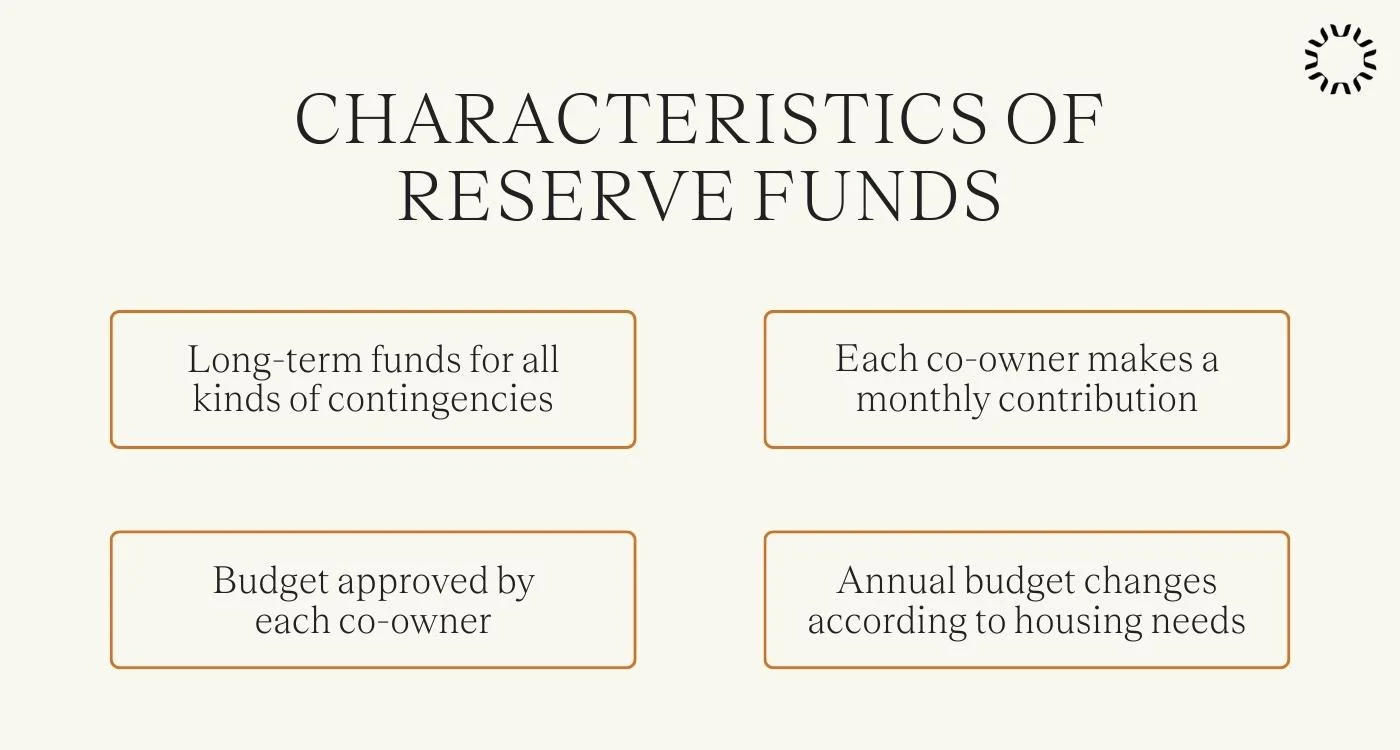 Advantages of buying a fraction of a house
After seeing this we understand why it's much more advantageous to buy a fraction of a house with VIVLA: all costs are shared with other co-owners.
With us you have the real possibility to take that step you have longed for and have your second home in some of the most exotic destinations in Spain.
Some of the advantages we offer you are:
1. Living in exotic destinations
You may have seen exotic destinations on television at some point, but now you can see them from the window of your new home.
VIVLA has created a model that is completely revolutionising the real estate industry. Why invest millions of euros in a property that you will only use for a few days when you can spend less money and use the asset right when you need it?
This is what we offer you, the possibility of making a single payment for a part of the property so that you can enjoy it during a specific period of the year. There's no doubt that it's a much smarter purchase that meets the new standards.
2. Six weeks a year
If you have researched home-sharing models you will have noticed that the conditions are quite disadvantageous, as you pay a large amount of money along with repairs and you only get to enjoy the property for one week.
We realised this and that's why we decided to create a model that fits your needs.
There are six weeks a year, 40 days, during which you can enjoy the best landscapes of the country. You will have at your disposal a catalogue with hundreds of luxury houses for you to choose the one you like the most.
Oh, and you will only have to make a single payment. Once you do, you'll be ready to plan your holiday.
3. Forget about repairs and cleaning the property
This is one of the most important points, and with the reserve fund that we are talking about, the condominiums can take care of any type of repair.
In VIVLA it's not that it doesn't exist, but it is covered by the payment of the fraction of the house. However, best of all, we have a team specialised in managing repairs.
We'll do whatever it takes to make your stay a wonderful one, from cleaning the garden, to repairing the pipes and filling the fridge so you can satisfy your appetite when you come home from a walk.
4. 100% financing
We focus on class A clients like you who like the best in every way. We know that quality counts, but sometimes we want to save some money or simply want a better payment condition.
Well, we have an alliance with an entity that will finance up to 100% of the amount of the property and you can pay in easy instalments. This way it will be much easier to have the holiday of your dreams.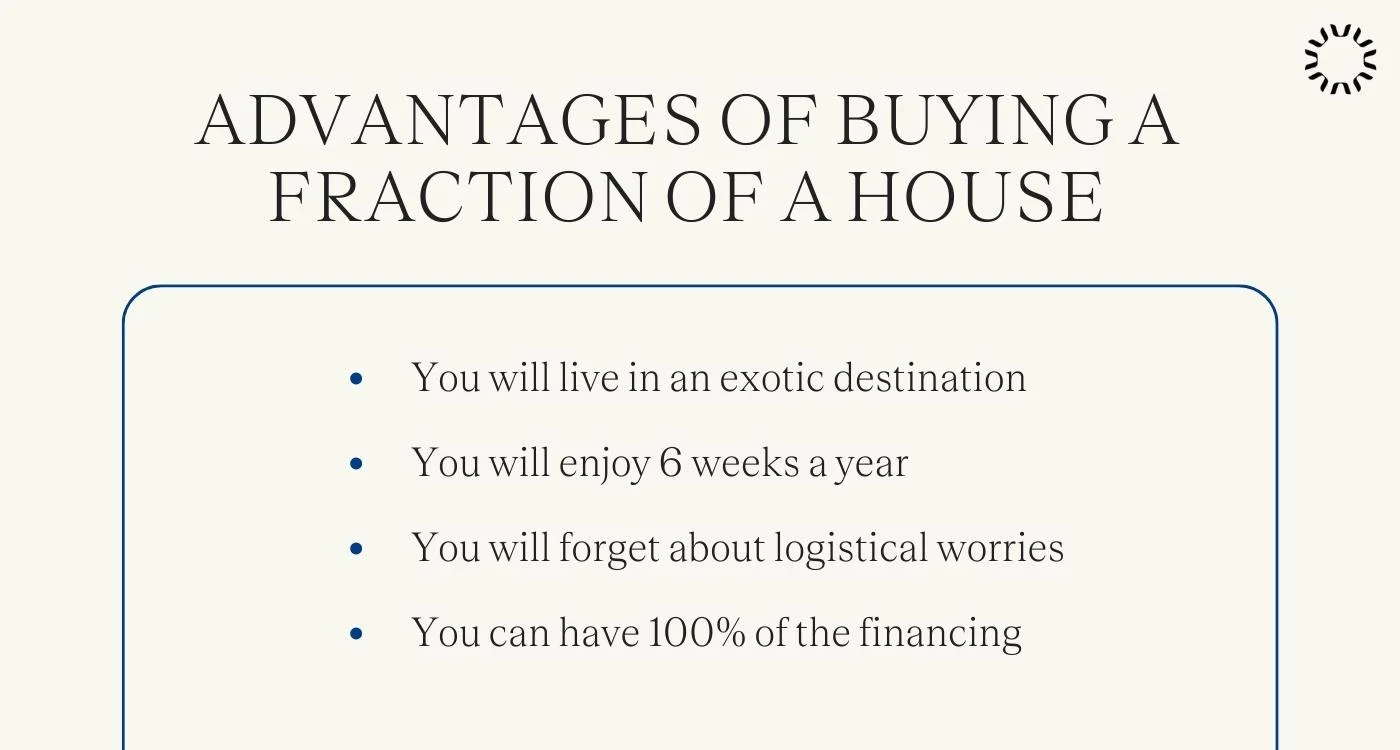 Spain's most exotic destinations
What are the most popular destinations in Spain? If you are preparing your next holiday, it's very likely that this question is rolling around in your head, so we thought it would be a good idea to show you a list of the places you must visit:
1. Costa del Sol
There's no doubt that the Costa del Sol is one of the most important destinations in Spain. It's considered one of the pearls of the Mediterranean, and the truth is that there are plenty of reasons for this.
There are more than 325 days of sunshine a year, so it's the perfect place for those who are tired of the harsh winters that plague cities like Madrid and Bilbao. It also has 125 beaches and thousands of kilometres of coastline for you to decide where you want to swim.
Add to this a wide variety of villages that will take you deep into Andalusian culture.
2. Ibiza
Words are superfluous when we talk about Ibiza. It's the island that never sleeps and it's frequented by artists and sportspeople alike, making it a place where you can meet some of your idols.
Ibiza has crystal-clear waters, but it's known for its nightlife in its capital city. There you will find all kinds of clubs for all tastes. You can also enjoy the hippie culture, as this is where this trend started in Spain.
3. Formentera
Last but not least is Formentera, the smallest of the Balearic Islands, which attracts more and more people every day.
You can only get there by boat, but once you arrive you'll find it's well worth the trip. There are several beaches and coves that provide the right atmosphere for you to enjoy your holiday.
Do you know what the best thing of all is? It has urbanisations around the beach where several of the VIVLA properties are located, so you will have the perfect view to start your day.
Don't think twice and contact our agents to set up an appointment and find out more about our services.