What is co-ownership housing?
How many times have you seen those TV shows about dream homes and wondered when the day will come when you will be able to buy the home you love so much? Well, with the co-ownership model you will be able to do so without going broke along the way.
Basically, it's the possibility of buying a part of an asset, becoming the owner of that fraction before the law. In this way, you will not have to invest in the whole structure: for an amount less than the total, you will own a percentage of the property.
Forget about the enormous expenses for maintenance, with this model you will only be responsible for the expenses of your fraction. This way you will have a better chance of buying that exclusive vacation home you have always wanted.
Read on and find out how you can fulfill your dream:
What is a co-ownership home?
First of all, let's define what co-ownership is. It's a model in which two or more people share a home and buy a fraction of the house to fully enjoy this asset.
So, you as co-owner actually acquire the right to use the house at a specific time of the year, but at the end of the day the company will always own the project.
In this sense, the co-ownership models offer you many alternatives to choose from, from villas, apartments, buildings, houses, mansions and campsites. The only thing you need to have is an idea in your head and enough budget to buy the right.
All this emerged in the 90's when travel to the interior of the country increased drastically and businessmen took advantage of the trend that many tourists visited the same destination year after year.
In this way they began to invoice every month and not only during vacation periods.
The disadvantages it causes
This model had great growth until a few years ago. Everything began to change when users became aware of the limitations it generated.
Basically, it all starts with the obligations you acquire as a client: you have to pay onerous installments every year in addition to the maintenance and repair costs for the duration of the contract, no matter if it is 1 or 30 years.
In short, you pay for the whole year but you can only use the asset for a week, something that is not really attractive to almost any tourist.
In this way, once you acquire a co-ownership it's very complicated to get out of it, weighing down the income and being less and less profitable for investors.
As if this were not enough, in 2015 the High Court of Spain indicated that a large number of homes in co-ownership were being sold illegally, which made the market finish rejecting it.
This is why more and more people are opting for models to buy a fraction of their dream home with VIVLA. A friendly project for all parties.
Types of co-ownership
It all depends on the contract you sign, but co-ownership is divided into different types. Let's take a look at each of them below:
1. Untitled
The mechanism of co-ownership without title is also called a right-to-use contract.
Simply put, it's an agreement where you as the client acquire the right to use the asset for a certain number of years, which can range from 10 to 99 years.
Even so, you must keep in mind that no matter how long you contract, the property will never be yours, so once the period is over, it will return to the company.
In this sense, one of its characteristics is that you must pay the annual maintenance costs as well as any special fees that may arise. In this way, verify that these are terms that benefit you in order to make the best decision.
2. Written contract
The second modality is the written contract, in which users buy the asset by means of a share and have the possibility of renting or selling it to whomever they wish.
This makes it the most widely used at present because it allows you to make a profit. Of course, you have to settle all the doubts so that there is nothing that can harm you.
3. Fixed week
The fixed week contract tells you that you have the possibility of using the property during the same week every year, so you will not be able to change these days under any circumstances.
We consider it useful when you have a fixed employment or activity with estimated vacations in a period of time. So, if you are free between August and September, you already know that those will be your days of total enjoyment.
4. Floating week
On the other hand, we have the floating week, which offers you more flexibility because you can choose the week in which you will use the property.
Of course, you must anticipate it with plenty of time, since competition is high, especially in high season.
5. Right of use
We also have the right of use contracts, in which you can use the property for a specific number of years, but you must understand that the company will always be the owner at all times.
The costs are greatly increased, but you will also be able to use the asset for a longer period of time. You decide what benefits you the most.
6. Based on points
The points-based contract is very interesting, as you have to buy a specific amount of points that you will exchange for timeshare reservations.
In most cases they are used in hotels and resorts that have locations in different parts of the world.
How many points do I need? It all depends on the location, number of days and standard of the place, the amount could increase significantly.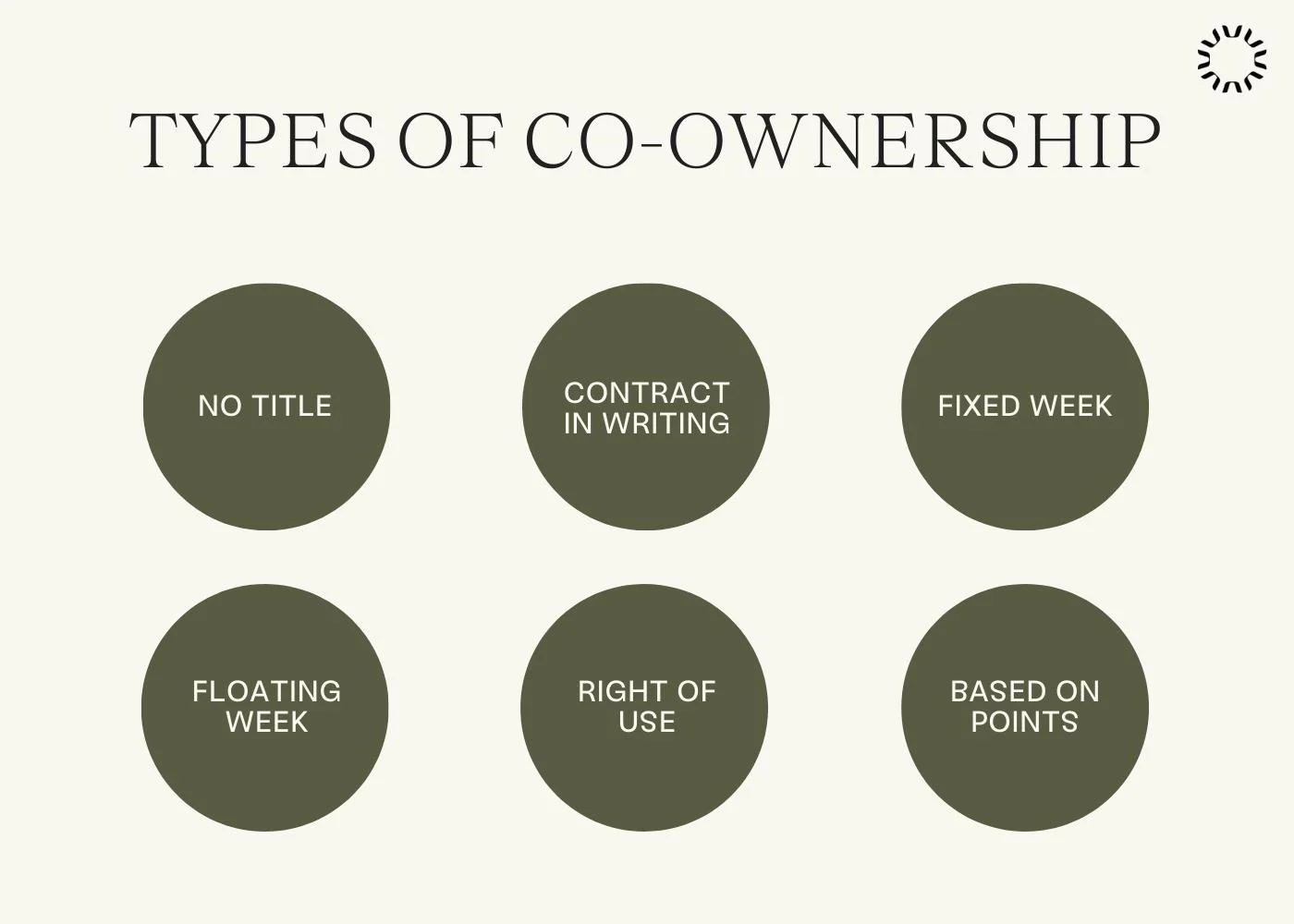 The average price of co-ownership
How much does a co-ownership cost? This is one of the most common questions asked by all those who wish to enter this sector.
According to what some specialists say, you have to pay an upfront amount that in most cases does not go below 10,000 euros depending on the characteristics of the project.
You will also have to take care of the costs for repairs and maintenance that arise during the contract, which makes it a real headache financially.
Forget about co-ownership housing with the VIVLA model
How many times have you thought about the right way to generate wealth and secure your assets with real estate? Surely many times and now you've come to the right place with VIVLA.
We give you the possibility of owning a fraction of some of the most luxurious homes in Spain in such exotic destinations as Ibiza, Mallorca, Costa del Sol and the Pyrenees.
Yes, just as you read it. In practice it's complicated to invest in homes in these places, but with this model we bring dreams to your reality. With a single payment you will have the possibility to enjoy up to six weeks of the best vacations of your life.
Forget the stress of taking care of laundry, maintenance and home repairs. We have a team that will make sure every service runs smoothly so you can focus on enjoying your vacation.
One of the reasons why buying a second home is so complicated is because our country has high tax burdens for these operations, something that is reduced if you buy only a part of the property.
In addition, if you compare it with the timeshare, this model is much more beneficial, so much so that if you do not want to disburse all the money on one occasion you can use the financing offered by andbank, VIVLA's financial partner.
On the other hand, you have the possibility of exchanging your fraction for another in the first 12 months of the contract, and you can also sell it to recover your money in less time than you would imagine.
Definitely investing in homes in Spain is a super attractive option for all those who want their money to work for them. However, the key is to find the ideal model so that you can recover your working capital in a relatively short time.
That's where VIVLA comes in, an alternative to increase your wealth, protect your wealth while indulging in dream vacations in first class destinations.
The next step is to register in the form that appears on our website so you can see how you can be part of our family in a very short time. Our agents are waiting for you, so don't think twice.