Reasons to buy a shared luxury home and its advantage
Buying a shared luxury home is something everyone thinks about at least once in their life. Especially if you're planning to use it for vacations or moments of relaxation and comfort.
Chances are that you have seen exclusive second homes but you stopped, because of the considerable outlay of money you'd have to face.
A few years ago, it wasn't possible to buy fractional properties. Today, you have the possibility of buying a fraction of the house of your dreams and reselling your share whenever you want.
And that's one of the reasons why VIVLA exists, so that you can choose from the catalog of exclusive homes, buy your fraction, enjoy the property and generate profits with it once you want to sell your share.
But beyond this incredible reason, there are other reasons that will make you want to invest in at least one VIVLA house.
What is a shared luxury home?
Shared luxury homes are properties that are based on fractional payments, that is to say, that the fractional model is the one that leads this type of purchase or transaction.
Imagine that right now you have the desire to buy a house that you've loved at first sight, but its price or total value is not something you can afford right now.
Chances are you'll write off that opportunity, and that's something that wouldn't happen if you decided to invest in a shared luxury home….
That's because this model of payment, like the one we have in VIVLA for example, allows you to acces the same property but for a lower cost, because the total value will be shared between 8 co-owners.
So each one will have to pay an equal or equal share and everyone will be able to enjoy the same benefits of the house.
Advantages of shared luxury homes
This whole system is quite attractive, because as an investor, you can get multiple benefits beyond spending a nice vacation. If you need more reasons to buy your fractional shared luxury home, read the following list:
The destinations are truly a privilege
The destinations where you will find VIVLA houses are really a privilege. They are some of the most attractive destinations in the country, because of their natural beauty, the environment and amenities they provide to visitors.
People of all ages can enjoy them and find environments and spaces according to what they expected to find.
You have almost everything ready
And we say almost because the only thing you need to do as an investor is going to the house you like the most and giving yourself a tour, because everything else is taken care of by the team.
It's also good that you know that you will have our support during the whole time you decide to be a co-owner.
In case you want to schedule adventures and experiences around the house, you need other services or you simply need assistance; you can find it with VIVLA if you decide to buy a shared luxury house.
You will be able to spend your finances on other things
It's no secret that buying fractional homes is the ultimate solution to the exorbitant expense of traditional second home purchases.
Above all, maintenance expenses also play a major role in the final decision of whether or not to buy a second home, because they are a financial responsibility that you must face from time to time.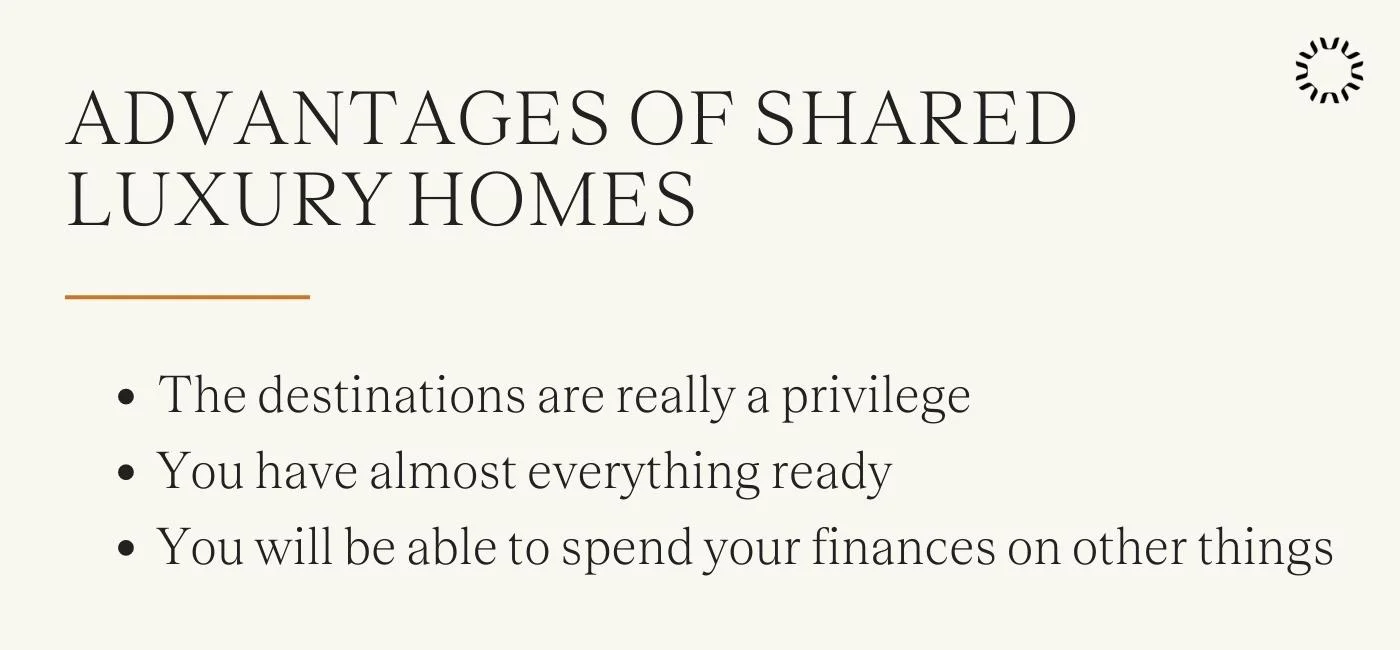 By investing in a fractional or shared house, you save on high maintenance costs and you can use the money for other investments or for savings.
There's no doubt that after the pandemic, our lives changed completely. And the real estate sector wasn't left behind: the way we live today is so much different than before, and we have a different perspective on the spaces in which we spend our time.
You no longer need to live every month of the year in the same house, you have already realized that you can enjoy different spaces in which you find tranquility, and above all, that give you enough comfort to work and rest at the same time.
VIVLA houses are all that you are looking for, they are the simplified way to experience or merge travel and life itself.
At this point, you've already realized that you don't need the traditional ownership model and that shared luxury homes are the investment you've been waiting to make.
Become a VIVLA co-owner and start living the vacation experience of your dreams.
You can do it with the contact button or through WhatsApp.