Luxury Villas in Spain
Are you looking for the ideal business opportunity to help you maximise your income? It's time to stop looking because we've found the ideal option: Luxury Villas in Spain.
Yes, believe it or not, there is a real estate sector that's growing every day and you can take advantage of it too.
However, we know that to enter you need to meet many requirements. However, with VIVLA you will no longer have to worry about this because the company offers you a catalogue with the best houses and all the services available.
Can you imagine arriving at your dream destination and with just a key you have everything you need to enjoy the place? Now you'll get to experience this.
Are you ready to find out how?
Why invest in a property in Spain?
The covid19 pandemic hit many economic sectors hard and the real estate market was one of them. For more than 12 months the niche was quite repressed, which caused many investors to lose money.
However, 2022 has been the year of the long-awaited recovery that everyone was hoping for, as even as early as 2021 there were signs of a levelling off of operations. It is said that more than 100,000 housing starts were made in the year and prices increased by a small percentage.
This is synonymous with an increase in rents, property prices and credit growth. That's why Spain is once again becoming one of the best countries for investing in real estate.
Key cities such as Madrid, Barcelona and Valencia are showing positive numbers, but also exotic destinations such as Costa del Sol, Pyrenees and Ibiza.
So, it's time for you to take a look at some of the properties we have in the VIVLA catalogue to see how you can increase your wealth.
The best luxury villas in Spain
Are you ready to take the next step and invest in luxury properties? If so, there is no better option than VIVLA and below we will show you some of the mansions we have available:
1. Goya Home
We start with one of the most beautiful properties we have available. It's a structure of almost 300 square metres and we have completely renovated it so that you can enjoy new finishes that are in line with the latest trends.
Its floor plan is quite spacious and it has a lot of natural light, so you can play with different furniture and tones to give it the touch you want.
Inside there are 3 bedrooms and 4 bathrooms along with a lounge and dining room that lead directly into the kitchen. The kitchen has all the space you need to make the dishes you want for the whole family.
The purchase price of a fraction is 403.000 euros, so you can do your calculations to see how profitable it will be.
2. Casa Galdiano
Have you heard of the Castellana, in Madrid? Well, it's the most exclusive area in the Spanish capital and now you can have the house of your dreams in this place.
Galdiano Home is a flat that is located in a busy but still calm street, being the perfect combination for city lovers.
There are over 208 square metres of construction with four double bedrooms and two bathroom suites.
We love the kitchen because it's integrated with the main living area through a kind of island that gives access to the rest of the house, including the terrace that offers a view of a large part of Madrid.
If you decide to buy a fraction we will give it to you equipped and turnkey so that you can enjoy your dream holidays in your second home. The current price is 287.000 euros, an opportunity value.
3. Bretón Home
If you are a lover of small and cosy spaces, this is the ideal one for you. It's a super exclusive penthouse of 122 square metres, but of which 22 metres are pure terrace, so you can now fulfil your dream of having lunch and dinner with a view of the whole city.
The structure has two double bedrooms, a bathroom suite and a dressing room, so despite being so small it has enough space to enjoy your holiday.
The brightness of the terrace is perfect due to the fact that it faces north, so you will enjoy the sun's rays without getting a tan.
It's just a few metres away from the Plaza de San Juan de La Cruz and the price of the fraction is 141.000 euros, a value that we don't know for how long will be maintained.
4. Villa Fir
Now, if you are tired of the city and are looking for a much quieter place to enjoy your well-deserved holiday, the Pyrenees are the perfect place.
Just imagine it for a moment: mountains, clear skies, snow on top and plenty of hiking trails. It's very likely that with this description you are already thinking about looking for a new house, but we already have the ideal one for you.
We are talking about villa Fir, a wonderful refurbished house of 180 square metres with 4 floors so that you have enough space to live as you have always wished.
On the first floor we find a living room that is the preamble to the first two bedrooms with their own bathroom. Later, on the second floor we see the dining room next to the fireplace and a beautiful open concept kitchen for you to stand out while watching the scenery.
On the top floors we will see the ideal space to store mattresses for the children to rest after a day out.
The whole house has a combination of wood and grey tones that looks great with the mountain climate. It's currently priced at 154,000 euros, so think about it carefully.
5. Rocky Villa
Another house in the Pyrenees that you should take a look at is Villa Rocky, a chalet located in La Aldea de Formigal that has everything you need for an extraordinary holiday.
Inside you'll find four bedrooms and four bathrooms spread over three different floors.
We love the fact that all the floors are connected by an oak staircase that gives it a classic look without being ordinary. It combines blue with wood and white, giving you the brightness you were looking for.
The price of the fraction is 103,000 euros, which is an opportunity price you can't miss.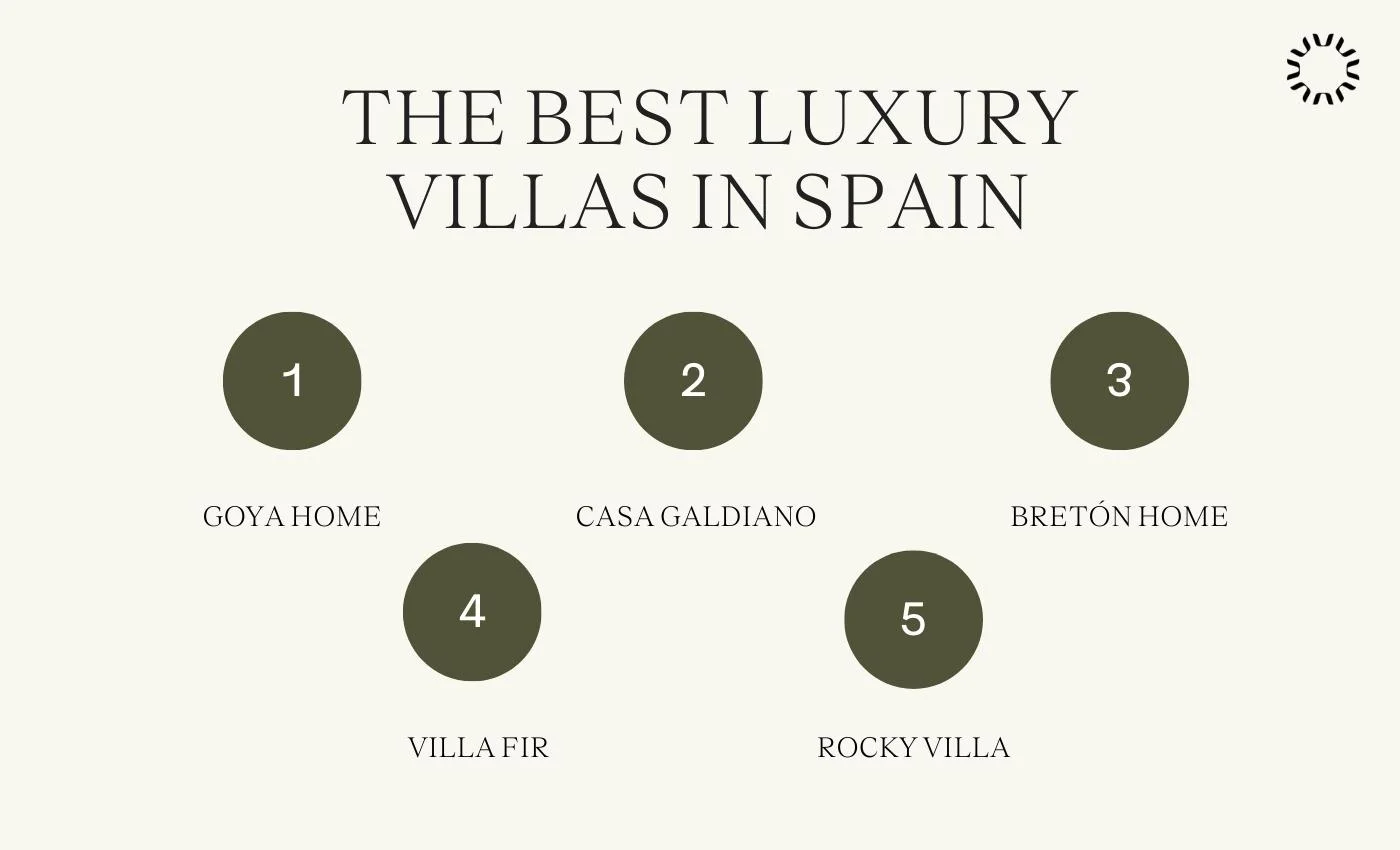 Reasons to invest in luxury villas
When it comes to investing in real estate, there are many questions that come to mind. One of the most frequent doubts is the niche you will focus on.
The truth is that the real estate market offers you many alternatives, from commercial real estate, residential real estate to family homes. However, few take into account the potential of luxury properties.
The great benefit is seen in the medium and long term, since they are assets that tend to be sold in a short period of time because they are finished projects, ready to live in and are marketed to a very small segment.
Generally speaking, a luxury villa has an excellent location, which guarantees an excellent price almost at all times. In addition, they have high quality finishes, which include super modern materials with high-tech equipment that makes everyday life easier for any family.
Therefore, it's time for you to take a look at the opportunities offered by luxury homes and nothing better than doing it with VIVLA.
We have a whole infrastructure at your disposal so that you can buy your second home without the headaches of any real estate purchase.
You put up the money for the fraction you want and we take care of the rest. From the gardening to any repairs that need to be done so that when you arrive you only have to unpack and enjoy all that the city has to offer.
Oh, and if you don't have the full amount of money you can talk to our agents and they can explain the financing plan of up to 100% of the amount.
Enter now and fill in the details on the form. The opportunity is waiting for you.