Hiking and cycling in the Pyrenees
How many times have you wanted to go on a trip to the mountains? The city can be stressful to a certain extent and that's where the plan of hiking and cycling in the Pyrenees comes in.
This region is the perfect place to leave stress aside. It is characterised by having mountains everywhere, snow-capped peaks and endless activities to give you the holiday you've been dreaming of.
To help you, at VIVLA we have many luxury properties for you to wake up with a view of the best areas of the Pyrenees.
Find out how you can be a part of this below.
Why go to the Pyrenees?
The Pyrenees is one of the most sought-after destinations in Spain because it offers many attractions that you won't find anywhere else.
Let's take a look at some of the reasons why you should visit here in 2023:
1. Constant snow
Yes, summer has many advantages such as being able to walk around in light clothing and to enjoy the beach. However, there comes a time when we get tired of walking around while sweating and that's when we think of places like the Pyrenees.
Although winter is not forever, this is a place with a cool climate all year round, so much so that there are peaks such as the Posets-Maladeta Natural Park where there is snow all 12 months of the year.
2. Fresh air
Since when do you not breathe fresh air from nature? Come on, if we're being honest we can say that in most cases the purest air we breathe is that of the smoke from the bus or factories.
The good news is that the Pyrenees offer many valleys for you to enjoy the surrounding environment. We recommend that you take your camera with you to capture those moments for posterity.
3. Rural villages
One of the reasons why we love the Pyrenees is that it has for you a series of villages that we often see on television.
These are places where less than 200 people live, offering you the privacy, tranquillity and views you need to disconnect from stress.
Best of all, some of our properties are right next to these villages. Can you imagine spending your holidays here? It would be a dream that you can now fulfil with VIVLA.
4. Mediaeval architecture
All the villages in the Pyrenees have mediaeval architecture that speaks very well of our origins. You have to understand that these are structures that have been created hundreds of years ago, so every time you enter a house it will be like going on a journey into the past.
So, if you are a lover of history, you will be able to take note of some of the details that justify today's buildings throughout Spain.
5. Viewpoints
Yes, climbing to the top is complicated and quite exhausting, but once you get to the end you realise that it was worth all the effort.
Well, in the Pyrenees you will find mountains to suit all tastes, so you can enjoy the majestic views that this destination has to offer.
Of course, we recommend that you come prepared with non-perishable food and mountain clothing, because the routes are demanding in every way.
6. Abundant rivers
The Pyrenees are characterised by a series of waterfalls and cascades that are perfect for sightseeing, plus you can drink as much water as you want because it is 100% spring water.
You can organise an expedition with your friends so that they can go early in the morning and enjoy all the surrounding landscapes.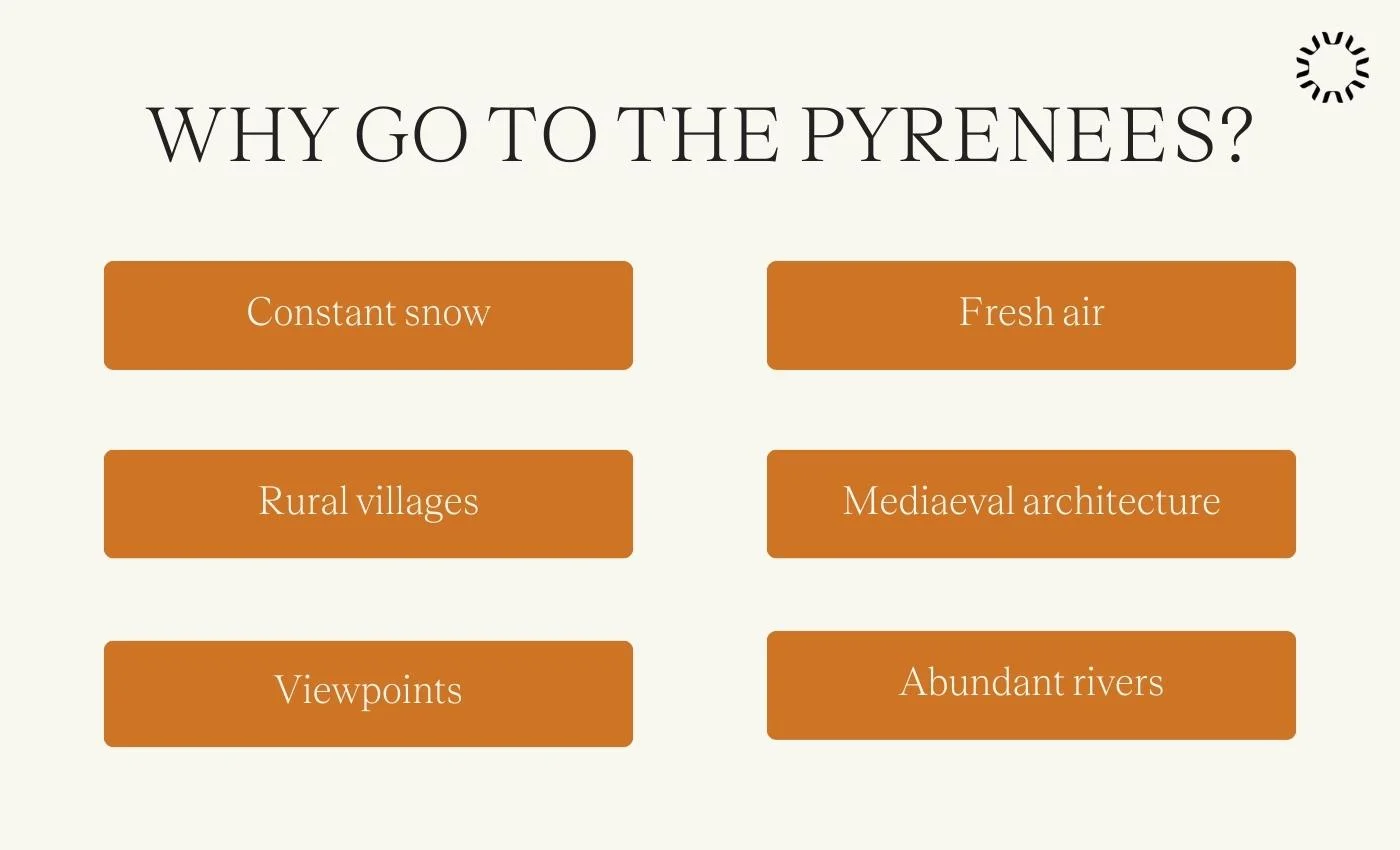 Best hiking and cycling routes in the Pyrenees
Do you want to go hiking in the Pyrenees? Let's take a look at some of the most popular routes for cycling in the mountains:
1. La Sarra reservoir
We start the list with the Sarra Reservoir, one of the most beautiful places in the Pyrenees.
It's perfect for you if you are just starting out because it doesn't have steep slopes and a simple bicycle will be enough for the whole route.
The route goes from Sallent de Gallego to the reservoir, which is almost 10 kilometres that can be covered in less than two hours.
2. Marie Blanque Pass
Second on our list is the Marie Blanque Pass, which is more than 1,000 metres above sea level.
We love the fact that it has two ascent routes, one from the village of Bielle itself, and another from the village of Escot.
Definitely between the two, the second route is much stronger. Here you warm up in the first two kilometres and then climb a gradient of 5 to 7%, and then finish with the biggest challenge: the ascent which slopes up to 12%.
The first route is somewhat easier, although you will still need to be in very good physical condition to reach the end.
3. Aubisque Pass
Cycling enthusiasts are sure to have seen this place when enjoying the Tour de France. It's the Col d'Aubisque, which is 18 kilometres long and has a gradient of approximately 1,200 metres.
The gradients are 4%, much lighter than the ones from the previous destination, although the further along the route you go you will find climbs of up to 13%.
Of course, when you reach the top you will feel that it was all worth it, as you will have a view of the Pyrenees that will make you stop to take some good photographs.
4. Pre-Pyrenees Medieval Show
We continue the tour and now it's the turn of the Prepyrenean Medieval Show.
It's a guided tour through the Aragonese Pre-Pyrenees itself, which makes it perfect to share with your family and colleagues. In short, it's a journey that consists of four stages that will take you through such incredible places, like the Kingdom of the Mallos, the Sierra de Santo Domingo and the Sierra de Guara.
In each area you can stop for a moment to take in the surrounding mediaeval villages. In fact, it's very likely that you will see some of the houses we have in our catalogue. So make the most of it and spend the holiday of a lifetime with VIVLA.
5. Pierre Saint Martin Ferry Port
The port of Pierre Saint Martin is characterised by 7 different slopes, so it's suitable for all tastes and physical conditions.
You have two options to go through it. The first is following the 2015 Tour de France route, that is, ascending from the village of Arette, through the Baretours valley until you reach the top.
The other alternative is via the village of Aramits, which will require you to use low gears due to the steep slopes. . However, this route offers you the best landscapes in the Pyrenees, so we consider it to be the ideal option.
All in all, we think it's time for you to invest your money in Pyrenean homes to secure your medium and long term future. If you register and fill in the VIVLA form you will see how to do it.
6. Bearded Vulture in Aragon
With just the name alone you can imagine what this route is all about. It's one of the most demanding of all the Pyrenees and it's time for you to do it to see if you are up to it.
It starts and finishes in Sabiñánigo and is held every year in June. Along the route you will be able to see all kinds of landscapes together with the French-Spanish contrast that only this area can offer you.
In this sense, you should bear in mind that for safety reasons and to preserve the natural resources that exist in the area, the number of cyclists is limited, so before each race there is a draw in which you must sign up.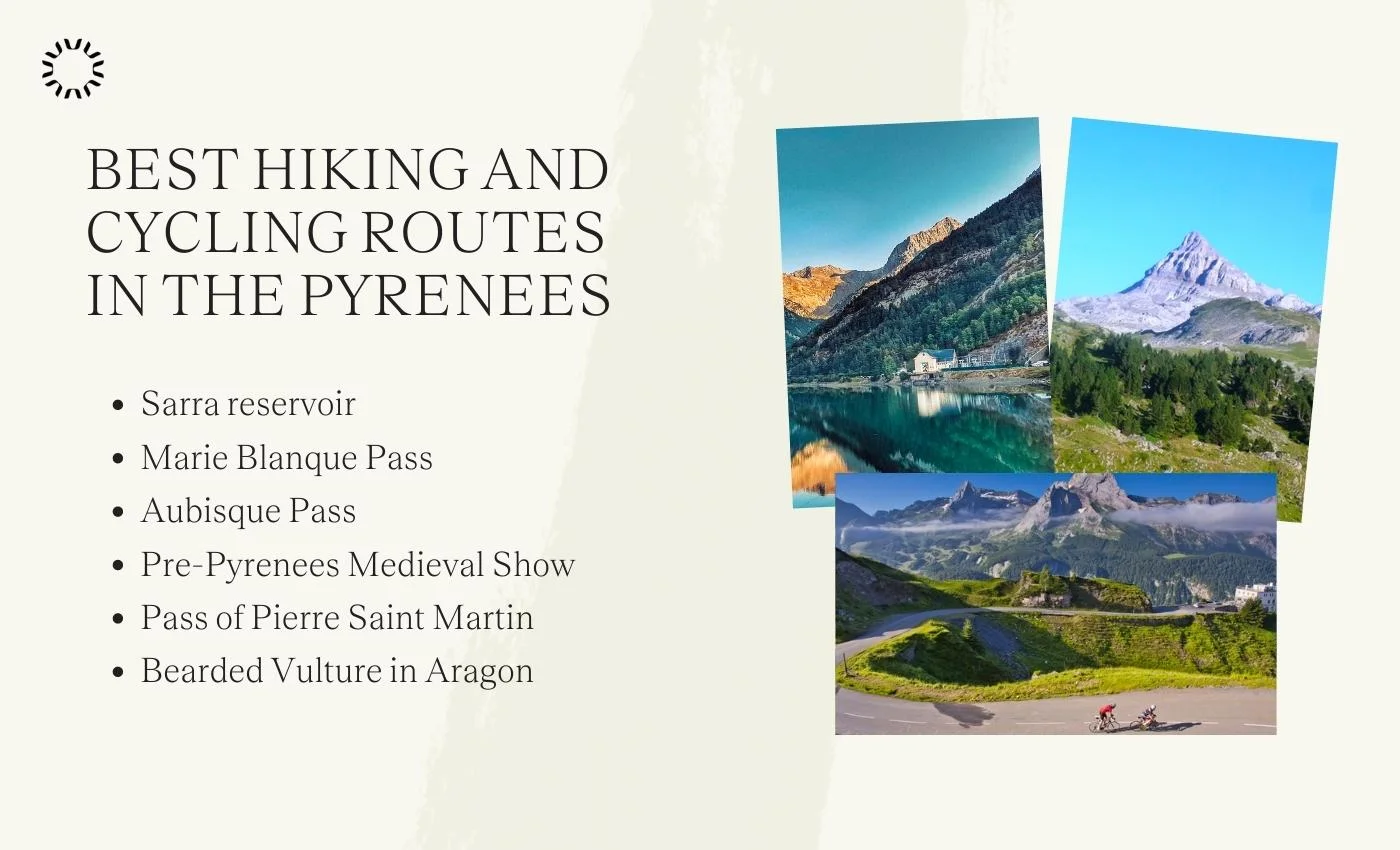 Buy your luxury home with VIVLA in the Pyrenees
Few destinations offer you the appeal of the Pyrenees. It's a place that will captivate you immediately with its nature, views and impeccable climate all year round.
Can you imagine living in a place like this? Now you can make it a reality with VIVLA. Here we offer you options for buying a fraction of the best properties in the area, with all the services included so that you can arrive turnkey.
It will be six weeks in which you will live like a king and where you will not have to worry about anything else but your stay. Are you ready to discover how you can get it?