Real Estate
·
10/02/2023
·
—
The best real estate agencies in Spain
If you've been thinking about buying a house, it's very likely that several questions have crossed your mind. The most important thing is that you know how to choose the best real estate agency in Spain to help you make this important decision.
Buying your house is a process that has to be exciting, but for this you must be in the hands of specialists who will advise you at all times on the steps you should follow to achieve your goal.
And the fact is that besides the area, there are many elements that influence the purchase of a property, from the price, the location, the type of house to the style of the property. All this will be indicated by the real estate company.
Fortunately in Vivla we have a list of the best companies in Spain so that you can choose the ideal one for you.
Which are the best real estate companies in Spain?
In order to find the ideal offer for you, the best alternative is to choose a real estate agency. However, the thing is that nowadays you have a lot of options to choose from, so you should take your time.
Let's take a look at the following list so that you know which the best real estate agencies are in Spain:
1. FP Inmobiliaria
We start with Fp Inmobiliaria, a company that has been in the market for 20 years offering different prices to suit all budgets.
It's worth noting that they specialise in the Albacete market, so if you want to buy a second home in this town in Castilla La Mancha, this is your opportunity.
2. Remax Spain
Remax is a worldwide reference, so it's almost impossible that you haven't heard of them. Surprisingly, they have a presence in 100 countries and in practically all continents, which assures you that they have a business model that has been proven over time.
It's a good option to leave your property search in the hands of experts, as they have a wide catalogue of all types of properties depending on what you require at that moment.
Come on, why take advice from amateurs when you can let the specialists guide you along the way? Believe us, experience will make the difference, so don't hesitate any longer.
3. Barreras Real Estate
Inmobiliarias Barreras has more than 30 years of experience fulfilling the dreams of their clients.
In their catalogue they have all kinds of properties, from small flats for single people just starting out to large mansions for you who want to enjoy your summer holidays to the full.
They also have commercial real estate, so if you are looking for a space to set up your new office, this is the company to negotiate with.
4. Gilmar
When it comes to experience, Gilmar is no slouch, and they have over 35 years of experience focused on providing their clients with the home of their dreams.
Their main office is in Malaga, but they offer properties all over the country. So, it's just a matter of logging on to their website to see what they have for you.
5. Rockefeller Spain
Do you dream of a 1,000 square metre house with a jacuzzi and first class finishes? Well, with Rockefeller España you can get it because they specialise in luxury properties, as well as decoration and design services.
If you have something in mind it's just a matter of making an appointment with them to bring it to life. Once you see it in the model you will fall in love forever.
6. Novamadrid
Novamadrid is a very interesting company because they specialise in the management of buying and selling properties, as well as renting different types of properties.
They cover the whole of the south of the Madrid region and offer services such as asset valuations, drafting documents and contracts and dealing with public bodies.
7. Boss Asesores Inmobiliarios
The last company on our list is Boss Asesores Inmobiliarios. It catches our attention because they give you the option of buying your house or building it from scratch, you have the last word.
In their organisation they have a team of experts that will help you make the best decision that fits your budget.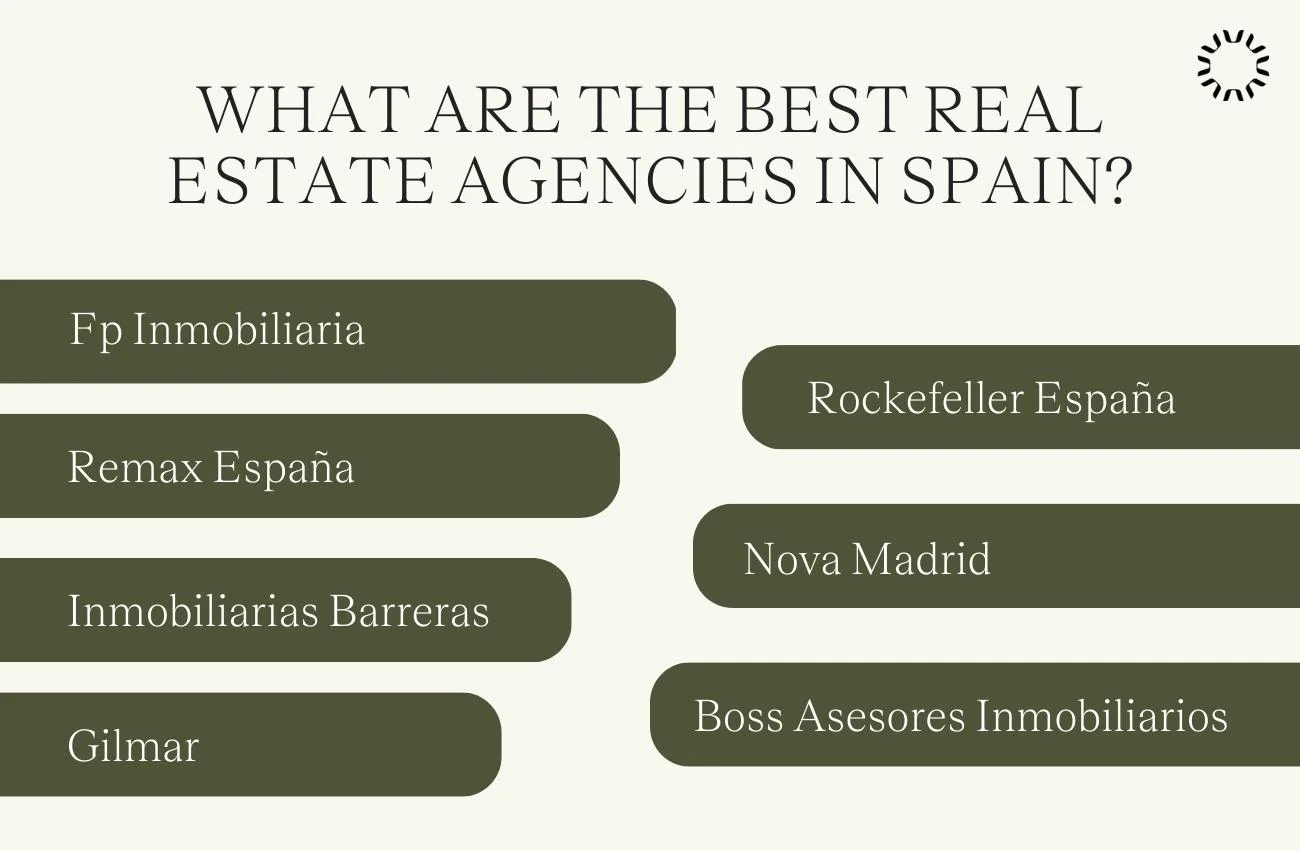 Tips for choosing the best estate agency in the country
Buying a house in Spain can be an exciting, if somewhat stressful process if you are not knowledgeable in the area. That's why rather than doing it alone, the best thing to do is to choose some of the best real estate agencies in the country to help you buy the home of your dreams.
Let's take a look at some tips to help you choose the best company in the industry to buy your home:
1. Check the experience
First of all, you should check the experience offered by the company. A team that has been working for two years is not the same as an organisation that has 30 years of experience with multiple success stories in its portfolio.
Which one would give you more confidence? The answer is clear, so this is the first thing you have to evaluate when a real estate company appears on the internet.
2. Look for references
Once you know how many years they have been in the market, the next step is to look for references about their work.
Yes, they may have a long track record, but if none of your acquaintances or friends have used them, it's time to look for another option.
You can also use social media to determine how much reach they have. Type the company's name into the search engine on Twitter or Instagram and read the comments. There you will determine if their services really match what they say.
3. Follow up
If you've already decided to use the services of a real estate agency, you have no choice but to trust them at all times. However, this doesn't mean that you will let them do the whole process, because beyond the fact that it's their job, you always have to follow up on the case.
Here you should keep in mind that the best companies keep their clients notified of any developments in the negotiation process.
4. Buyers offered
At the moment you want to sell your property, the real estate agency must have different buyers who have the financial capacity to buy your property.
And be careful, they must comply with a series of legal requirements in order to become a prospect. This will save you a lot of headaches that usually occur in individual negotiations.
5. Know the market prices
It's true that the price will depend on what each company values, but in most cases it is set between 3 and 5% of the value of the asset.
So, if they ask for a different amount you can doubt the quality of their services, as it's complex to pay more for a service that is literally regulated in the market.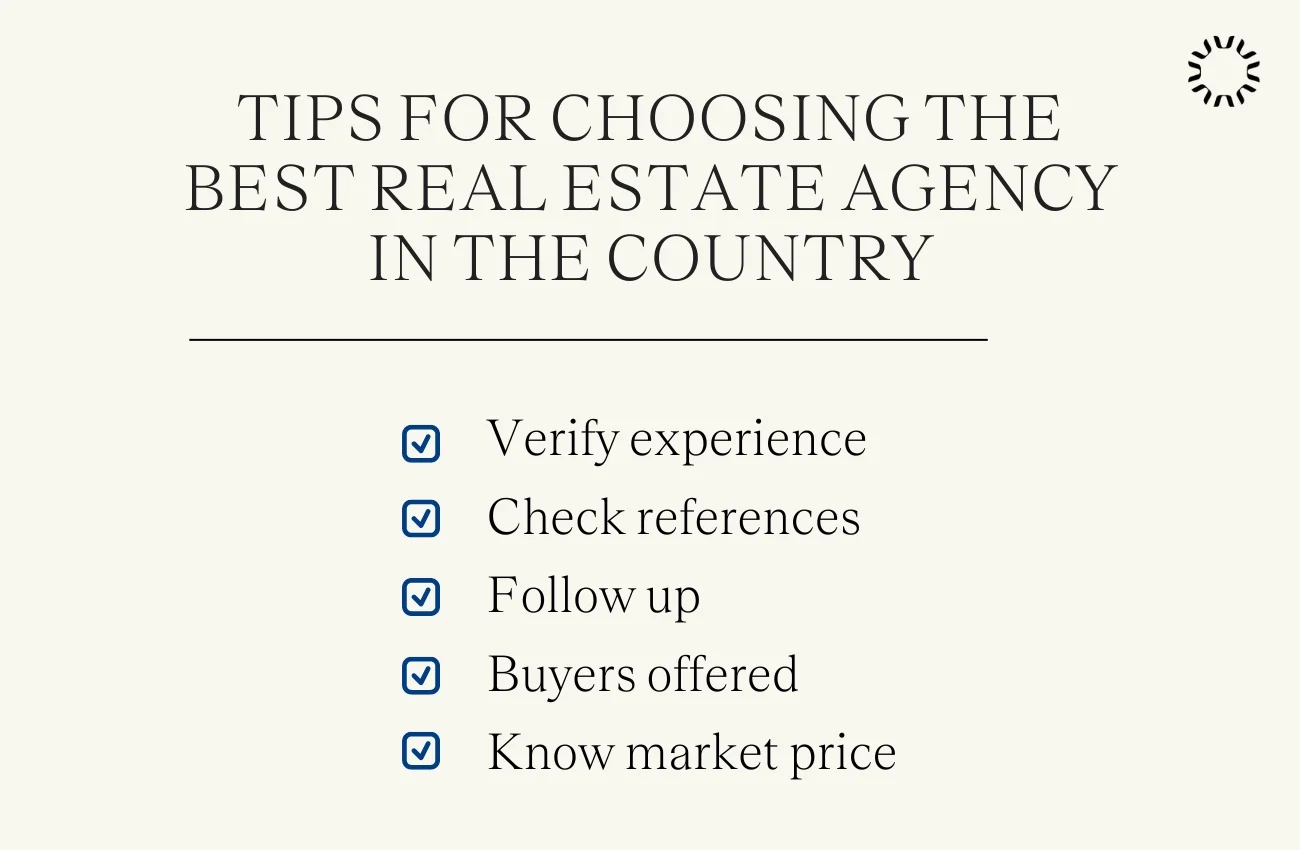 VIVLA, the ideal option for acquiring second homes
When it comes to buying a home, it's very important to have an ally to help you throughout the real estate process. That's where VIVLA comes in, your trusted company for acquiring the second home you've dreamed of.
Surely at some point you've gone to an exotic destination that you wanted to repeat. However, the problem is that hotels tend to be expensive, especially if you go in high season.
However, with VIVLA you will forget about this inconvenience forever because you can buy your house in instalments so that you can live your holidays as if you were at home.
Not only do they offer you a 100% financing plan, but they also help you throughout the purchase and maintenance process.
In addition, if you are looking for a home with exotic finishes, it's very likely that you will find it at VIVLA. Here we have a wide catalogue to meet the most exotic tastes. Each one of them has been thoroughly analysed, so you can be sure that the house is just as it looks in the photos.
So, if you plan to enjoy your holidays in a different way, it's time to call our numbers to show you everything we have for you. We will be happy to advise you on the purchase of your dream home.